Saint David - Patron Saint of Wales
Saint David, Britain's only native born patron saint, has strong links with Ceredigion. His mother, Non, was a nun and possibly the daughter of a local chieftain, and may even have been the niece of King Arthur. His father was Sant, son of Ceredig ap Cunedda, King of Ceredigion.
According to Rhygyfarch, St David's 11th century biographer, before Dewi Sant was born, his father was told by an angel to collect three things while out hunting: a stag, a salmon and a swarm of bees, creatures that represent the three elements of earth, water and air. 
St David's most well known miracle happened at Llanddewi Brefi where, according to tradition, the ground rose up under his feet as he addressed the large crowd. 
Saint Padarn in Ceredigion
Saint Padarn was a contemporary of Saint David and, according to medieval poets, may have baptised David.  Padarn was of noble lineage in Brittany, and Padarn, David and Teilo travelled together to Jerusalem, where all three were consecrated as bishops. As David's equal, Saint Padarn was once considered as a potential rival to St David as Patron Saint of Wales. 
Three churches are dedicated to Padarn in Ceredigion, the most notable at Llanbadarn Fawr, a village on the outskirts of Aberystwyth. Others are at Llanbadarn Odwyn, between Llangeitho in the Aeron valley and Tregaron, and at Llanbadarn Trefegwlys at Pennant, just inland of Aberaeron.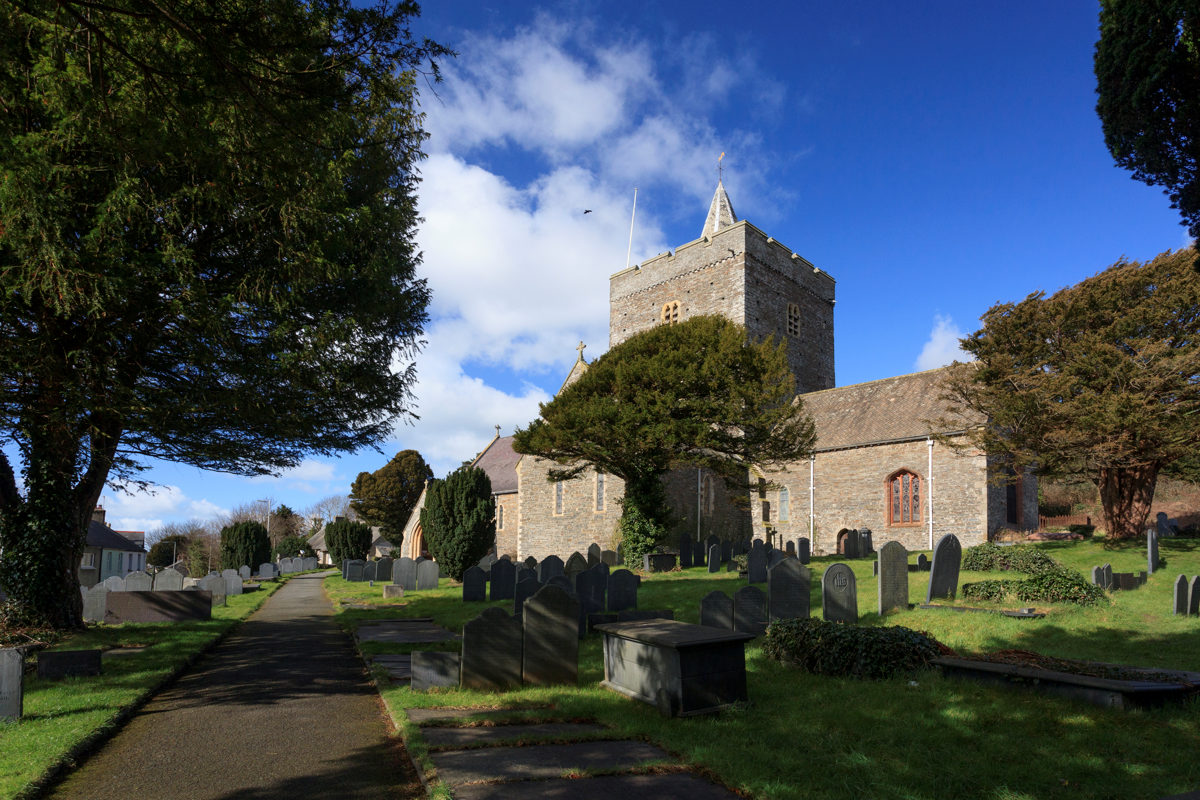 The church dedicated to Padarn At Llanbadarn Fawr is a substantial building - almost large enough to be a cathedral, and was an important site of learning for many centuries. This is where the 'life' of David was written by Rhygyfarch ap Sulien, the son of the Bishop of St David's. It was here where William Morgan also preached, before he became bishop of St Asaph, and translated the Bible into beautiful, poetic Welsh. The church still has a copy of his bible.
In a side chapel at Llanbadarn Fawr there is a display of intricately carved early Christian stone crosses.  Can you spot the carving of embracing figures, at the foot of the 3 metre tall pillar stone?
Note also the elegant arch of the west door, which may have come from Strata Florida abbey in the nearby Cambrian Mountains. There is also a medieval baptismal font, and a beautiful tiled floor. Try to time your visit to hear the peal of ten bells, the oldest of which dates to 1749, and the most recent installed in 2001. 
Strata Florida Abbey 
So remote was St David's shrine in West Wales that the Pope decreed that two pilgrimages to St David's were the equivalent of a pilgrimage to Rome, while three trips to the shrine were on a par with a journey to Jerusalem. 
Even more remote, in a beautiful valley in the Cambrian Mountains of Ceredigion, is the ancient holy site at Strata Florida. First established by the Normans, the abbey soon became an important centre of learning and pilgrimage under the patronage of the powerful Welsh Prince, the Lord Rhys of Deheubarth, who gifted the Cistercian abbey with large tracts of land from the shores of Cardigan Bay to the high moors of the Cambrian Mountains.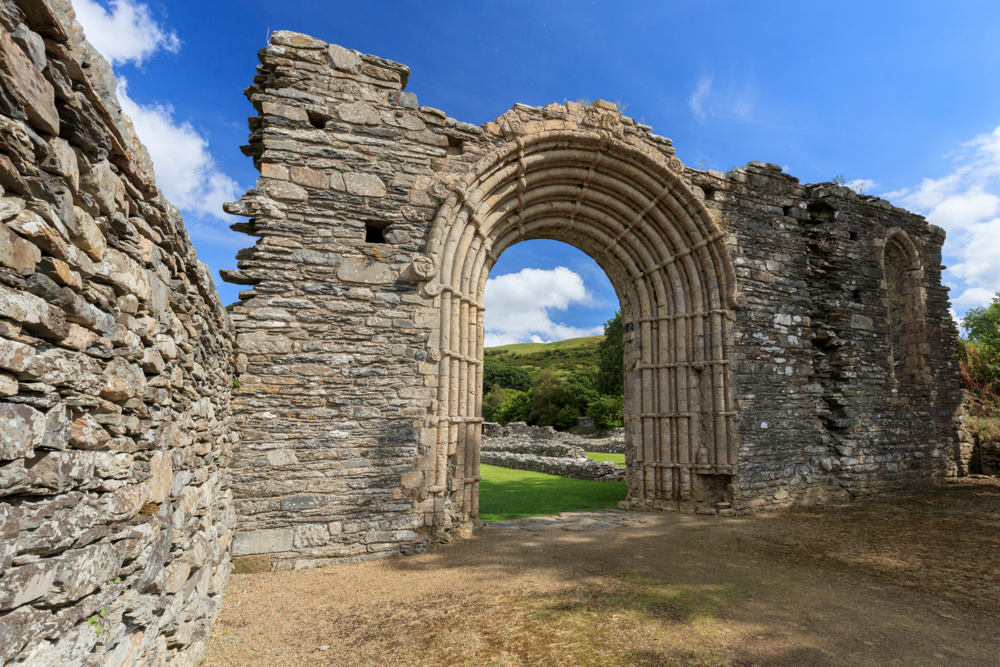 The ruins of Strata Florida abbey are set in a meadow in a mountain valley. The Latin and Welsh names - Strata Florida and Ystrad Fflur - mean Vale of Flowers.  Strata Florida's Cistercian monks developed sheep farming and mining on their vast estates across the region, and the abbey and its cloisters became a cultural powerhouse under the patronage of the Welsh princes. 
Manuscripts containing many of the earliest literary treasures of the Welsh language were created or copied in Strata Florida's scriptorium, and thankfully these have survived. Several are now at the National Library of Wales, along with other treasures of the nation. 
Considered supportive of Owain Glyndwr's rebellion, Henry IV desecrated the monastery and turned it into a military garrison, and when Henry VIII finally dissolved the monasteries, Strata Florida fell into ruin.  However the carved stone doorway survives almost intact, and hints at the importance of the site to Welsh history.  Another carved doorway, believed to be from Strata Florida too, can be seen at Llanbadarn Fawr, which is about 16 miles (25 km) away. 
Around 1180 Lord Rhys ap Gruffydd established a Cistercian nunnery - a 'daughter house' of Strata Florida - at Llanllyr in Aeron valley.  The nunnery survived until the dissolution of the monasteries, but hidden away in the garden is an early Celtic carved stone.  Visit the gardens on one of the National Garden Scheme open days.
The Nanteos Cup 
Because of its remoteness, it is believed that monks brought holy relics from Glastonbury to Strata Florida for safe keeping. These included a wooden drinking bowl, which eventually became known as the Nanteos Cup.
There are many tales of people being cured of illnesses and ailments by drinking from or touching the Cup.  This belief in the healing powers of the cup have led some to believe that it may be the Holy Grail itself. 
From Strata Florida, the bowl went to Nanteos, and is now in the safe keeping of National Library of Wales in Aberystwyth, where visitors can see it and learn more about the traditions and beliefs associated with it.
Pre- and early Christian sites
Strata Florida may have been developed on an earlier sacred site. Discover other churches built on  pre-Christian sites of religious significance.  They are often characterised by curved boundary walls.  Ysbyty Cynfyn in Cambrian Mountains has five large stones embedded in the graveyard wall  - possibly taken from an earlier stone circle.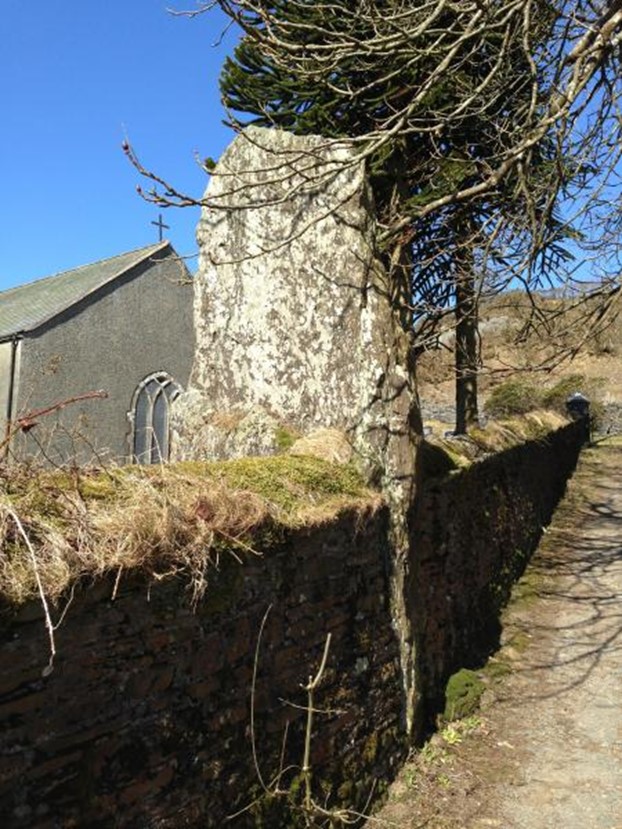 Many of Ceredigion's early churches were built in secluded locations, hidden from the raids of the pagan Vikings. They were modest but welcoming places, and today these peaceful locations are perfect places to escape a while, relax and refresh your soul. Llangrannog's church is hidden from the sea in a sheltered valley, whilst Penbryn church, despite being built on a hilltop (in Welsh 'pen bryn') is equally well hidden from seaborne raiders.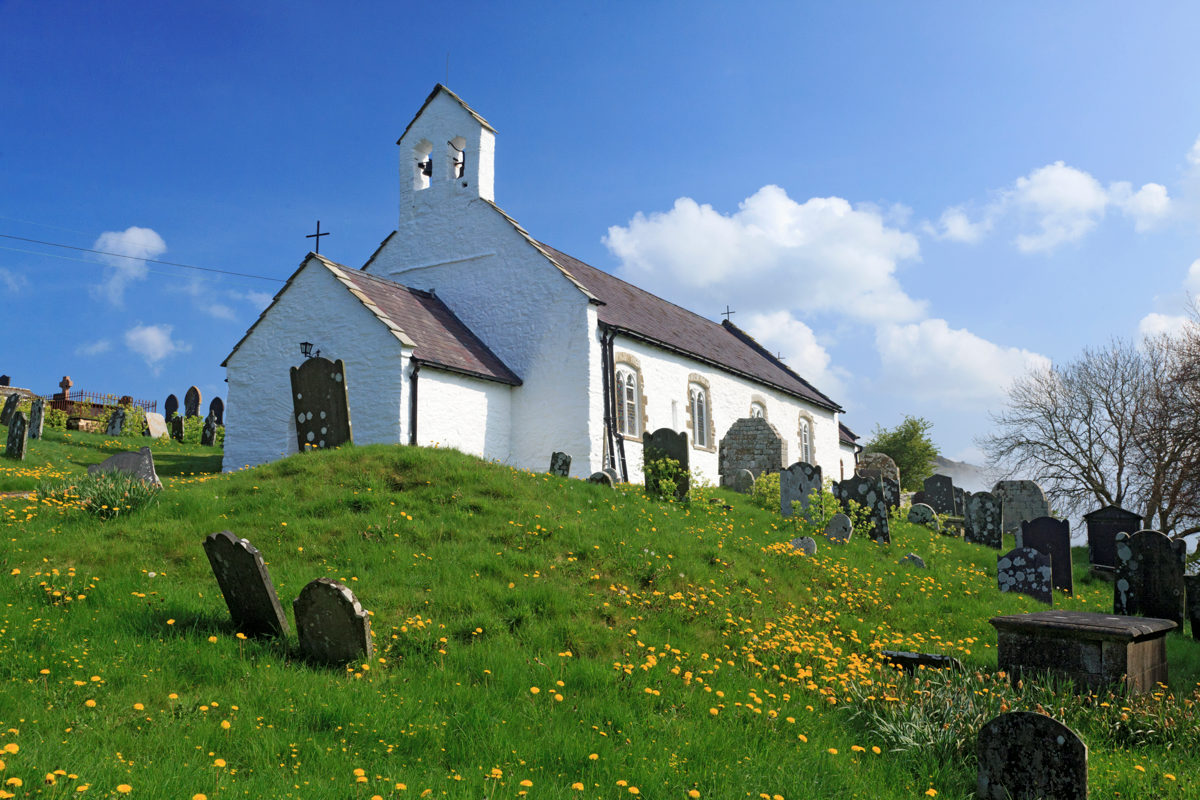 Churches along pilgrim routes include Llanfihangel y Creuddyn in the Ystwyth valley, and the tiny Ysbyty Ystwyth, as well as the little whitewashed church of the Holy Cross, in a meadow above a beach, nestling below the craggy hillock or 'Mwnt'. From here pilgrims would arrive, probably by boat, rest and depart again on their journey to St David's shrine, about 40 miles to the southwest away along the coast.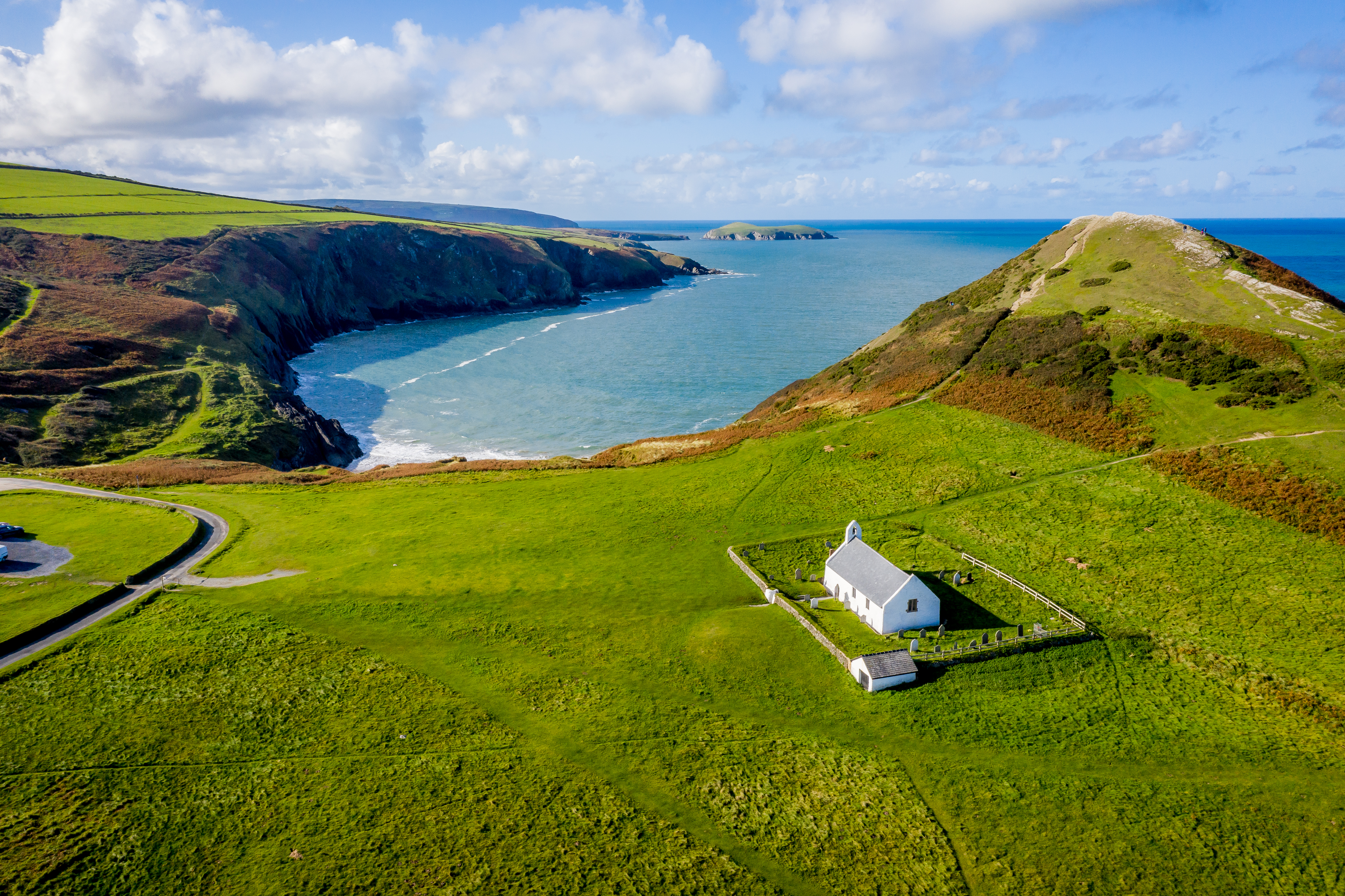 Female saints in Ceredigion
As would be expected there are churches dedicated to St Mary the virgin across Ceredigion (look out for 'Llanfair' in the name). The Roman Catholic Shrine of Wales, dedicated to St Mary, is at Cardigan. Also in Cardigan is the former priory church of St Mary's. 
As well as churches dedicated to the Virgin Mary, there are several churches dedicated to female saints in Ceredigion.
Llanwenog in the Teifi valley is dedicated to Saint Gwenog, but little is known of her life. 
Non (or Nonita) was the mother of Saint David. The church at Llanon Llansanffraid is dedicated to both Non and St Bridget (Ffraid), the female patron of Ireland. It is located on the Coast path between Aberaeron and Llanrhystud. 
Inland of Llanrhystud is Llangwyryfon, dedicated to St Ursula and the virgins.  Ursula was a Romano-British princess, who was martyred at Cologne with, perhaps, as the legend claims, 11,000 virgins. The German city's cathedral is also dedicated to them.