Aberystwyth North Beach and seafront
The main focus of Aberystwyth seafront is Marine Terrace with its Georgian and Victorian style architecture, hotels, pier and bandstand.  The beach, framed by the rocky platforms of the Pier and Bath Rocks, is made of dark sand and pebbles backed by rocks and a stone sea wall.
A series of breakwaters and groynes intersect the beach and provide shelter. The crescent shaped cove in front of the bandstand is a favourite spot for surf lifesaver club practice. 
The promenade is popular with locals and visitors alike for a gentle evening stroll - it is famous for its sunsets and winter murmurations of starlings - as well as joggers, artists and picnicers. 
The beach can be directly accessed from the concrete slipway or, as the the stone sea wall becomes higher towards the northern end of the beach, via steps.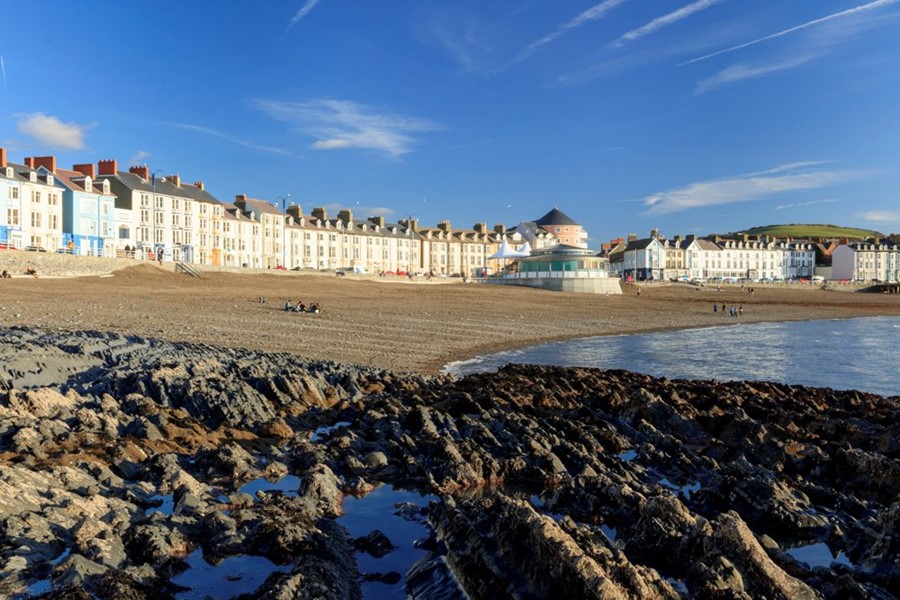 The very northern end of the beach has large boulders to protect the seawall and promenade. A small shingle beach lies sheltered below the rocky slopes of Constitution Hill, just beyond the end of the promenade,  where everyone who knows Aberystwyth will go to keep the tradition of 'kicking the bar'. 
As well as a programme of entertainment and events in and around the bandstand, there are traditional seaside treats such as donkey rides, amusements at the Victorian Pier, and delicious fish and chips and ice cream.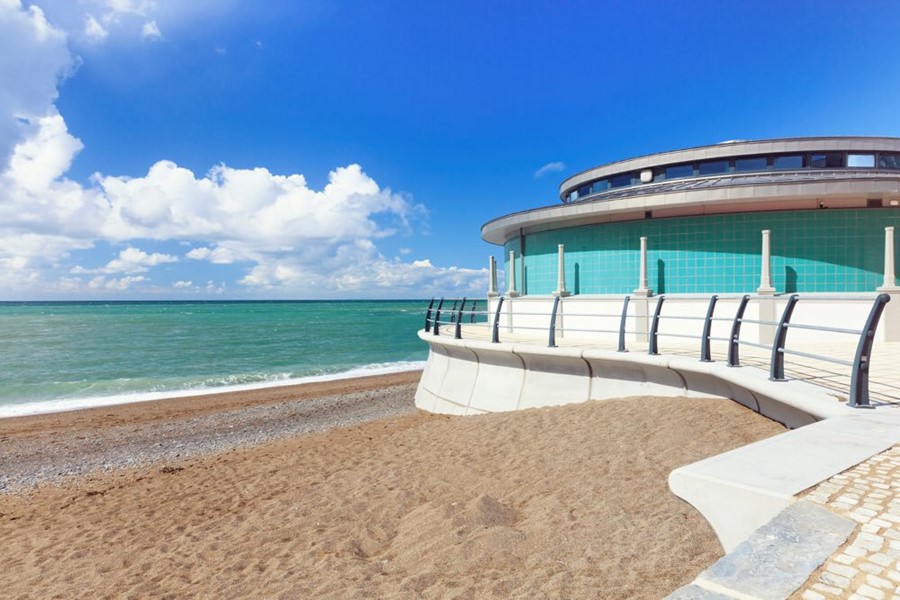 The promenade is a favourite strolling and jogging route, particularly in the morning and the evening.  It's also a favourite spot for a memorable photo of a beautiful and dramatic sunset at any time of year,  as well as the famous starling murmurations between late autumn and early spring.  
Aberystwyth South Beach and harbour
Aberystwyth's Seaside Award South Beach is a little quieter than the town's North Beach but is also patrolled by RNLI lifeguards during the summer months. It's a wide, gently sloping sand and shingle beach, where you can catch the sun for most of the day.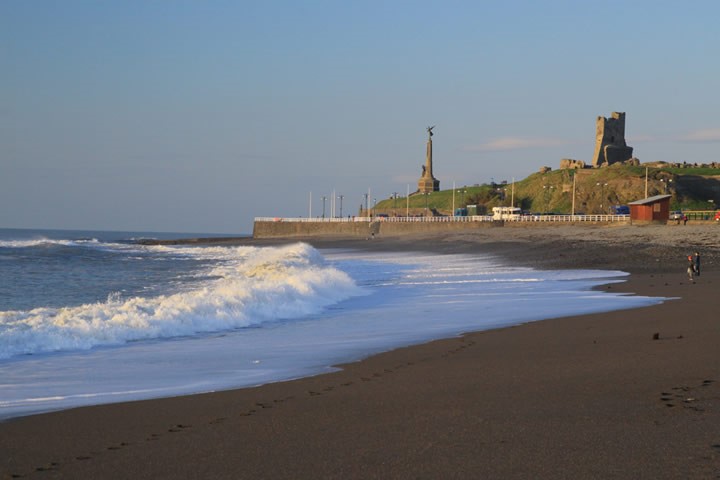 The southern end of the beach, by the 'harbour trap' is a great favourite with experienced surfers, and is a great spot for spotting dolphins and porpoises. 
The beach can be accessed via a concrete slipway opposite the end of South Marine Terrace, or there are steps between the slipway and the breakwater at Castle Point, and two more flights of steps between the slipway and the breakwater at the south end of the beach.