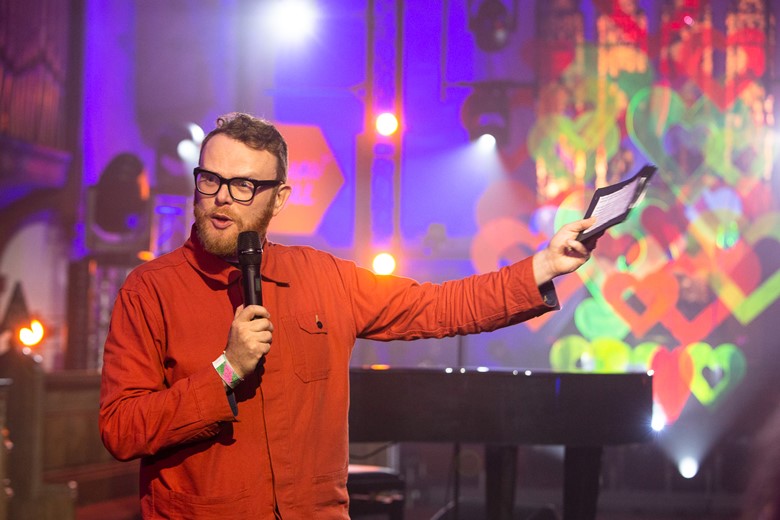 Other Voices / Lleisiau Eraill, Cardigan
Other Voices Cardigan is part of a family of festivals  The weekend features emerging acts as well as world-class performances at St Mary's Church and live sets at a variety of interesting venues on the Music Trail around town, from cellar bars to the castle, galleries and cafes.   Buy one ticket fro the weekend, which is exchanged for a wristband which gives you access to over 80 events on the Music Trail, a chance to win a coveted 'golden ticket' for performances at St Mary's church and an entry to a draw for prizes from local businesses.  The event is filmed for later broadcast on S4C and RTÉ, but there's really nothing like being in Cardigan for the weekend of live performances.
Complementing the music is a Clebran, a series of conversations and exchange of ideas between artists, writers, historians, linguists and musicians with thinkers and policy makers about contemporary challenges and opportunities, the relationship between local and the global, the periphery and the centre, community and wider society, and how small movements can bring about significant change.
The Music Trail wristband also gives you unlimited access to the Clebran discussions.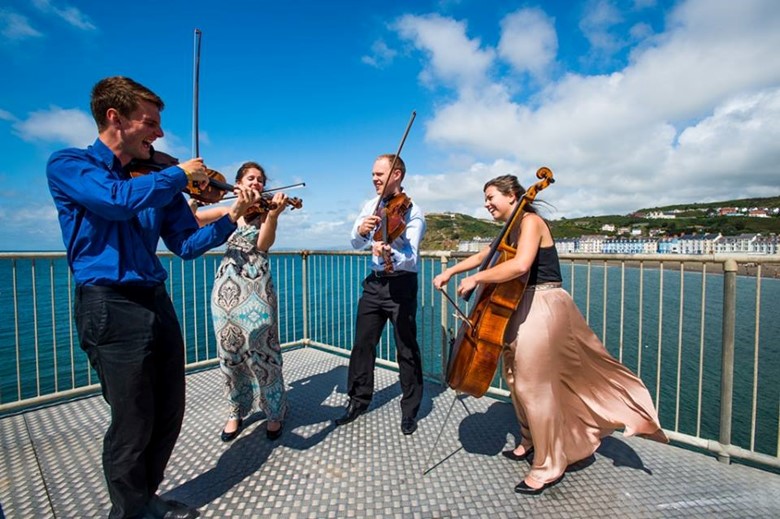 Classical music in Aberystwyth: Gregynog and Musicfest
The Gregynog Festival is Wales' oldest classical music festival. The main venue is Gregynog Hall in Powys, the home of the Davies sisters who were great patrons of the arts with a strong connection with Aberystwyth, where both the Aberystwyth University School of Art and the National Library of Wales have works in their collections collected by the sisters.  The National Library is one of the venues for concerts during the festival.
Aberystwyth Musicfest is a combination of international summer music school and a series of concerts and fringe events where participants - students, tutors and professional musicians and artists from around the world come to learn, create and enjoy a series of concerts, recitals and fringe events around town. The festival's artistic director is international harpist Catrin Finch who was raised locally at Llanon.

Pop, rock and tribute bands at New Quay and Aberystwyth
New Quay Music Festival was established in 1998 and has a loyal following among locals and regular visitors to the resort. Well known rock and pop artists and local talent entertain in the festival's grand marquee and smaller venues around town over the first weekend in August. 
With three days of the UK's very best tribute acts playing on The Main Stage and a second stage full of great local acts, The Big Tribute, held at Lovesgrove on the outskirts of Aberystwyth is one of the highlights of the late August Bank Holiday weekend.  The family friendly festival has a little rockers zone with games and inflatables. For grown ups there's a full scale ale and cider festival as well as local traders stalls and a tasty selection of food outlets. 
Aberystwyth - musical inspiration, archives and anthems 
The National Library of Wales is the home of the National Screen and Sound Archive, with thousands of tapes, records and CD's.  The Archive has rare recordings of broadcast Welsh music, musical scores and instruments, folk songs collected and interpreted by various societies and individuals such as Dr Meredydd Evans, who lived in Cwmystwyth in Ceredigion's Ceredigion Cambrian Mountains. 
Live music performances are held in the Drwm, a small, comfortable theatre at the heart of the Library.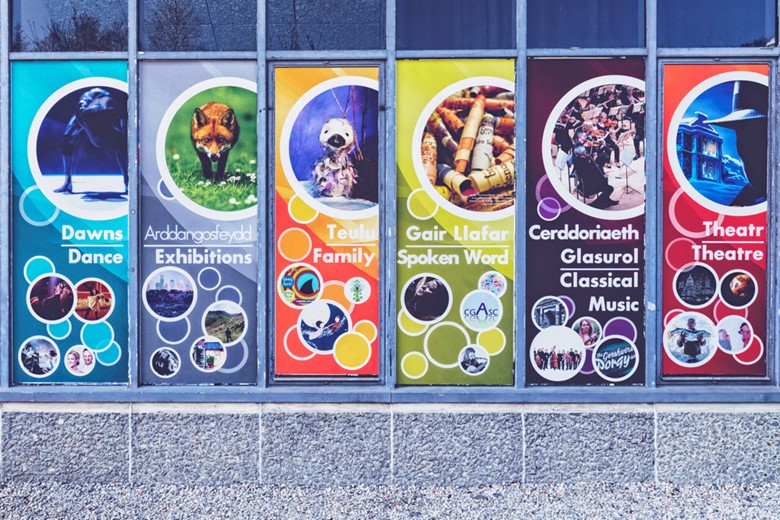 Aberystwyth University's Arts Centre has several performance spaces, including a theatre, cinema, studio spaces and a 960 seat concert hall.  It hosts concerts and performances by well known artists as well as It is the venue for national competitions such as choral and brass band competitions including Cor Cymru and Band Cymru.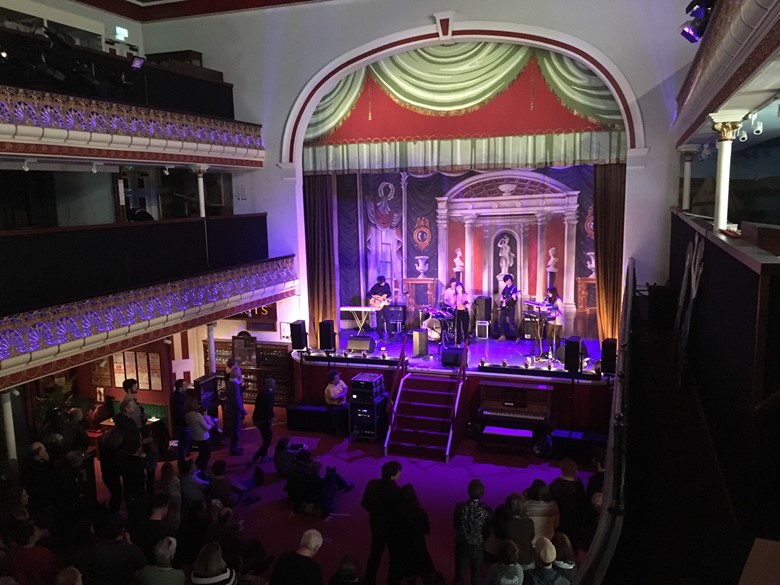 Aberystwyth is also home to the Ceredigion Museum​, housed in a beautiful Edwardian theatre and hosts an eclectic programme of events throughout the year.​ Just around the corner is Canolfan Arad Goch theatre and performance centre dedicated to producing high quality performances for and by young people. On the nearby promenade, the Aberystwyth bandstand has a popular summer programme of events including music and performance. 
Creative Cardigan
Cardigan Castle is an unusual but beautiful venue where a series of concerts and events including pop, rock, folk and classical concerts take place on the castle's lawn. 
The castle is part of a cluster of venues near the riverfront of Cardigan. Pizza Tipi is a summer venue which hosts music events, and livestreams the Glastonbury festival. On the corner opposite the castle is the Cellar Bar, where concerts and open mike events take place, as well as poetry and theatre.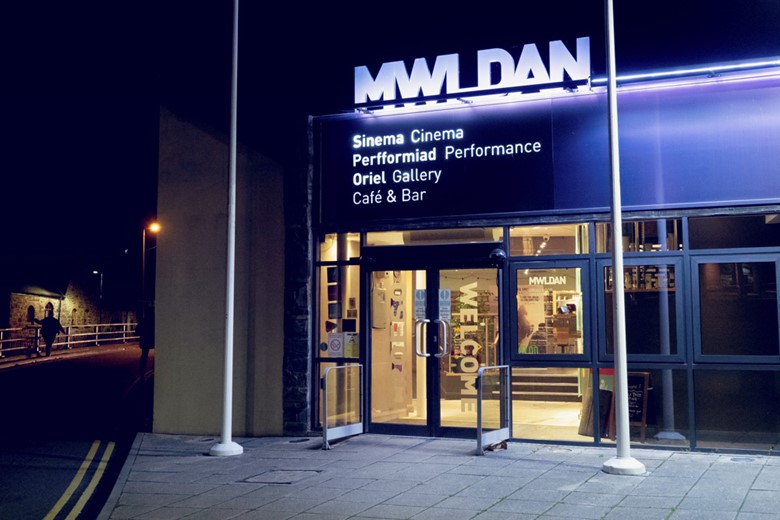 You'll find another cluster of performance spaces at the other end of Cardigan town - Theatr Mwldan has exhibition spaces, a theatre and cinemas. Specialists in folk music, Theatr Mwldan is the focal point for Other Voices and Gwyl Fawr Aberteifi, and also organise the Cardigan Castle summer programme. Live streaming of opera, theatre and ballet from the world's top venues is also available at Mwldan. 
Next door is Small World Theatre, which hosts and eclectic programme of activity including live performances of music and theatre.
Other venues
Being a market and university town, Lampeter has a wide ranging music scene, with folk, rock and pop at the town's Victoria Hall. You can also enjoy classical concerts in the Cliff Tucker Arts Building and religious music, especially at Christmas in the beautiful chapel in the main St David's building on the University of Wales Trinity St David's Lampeter campus.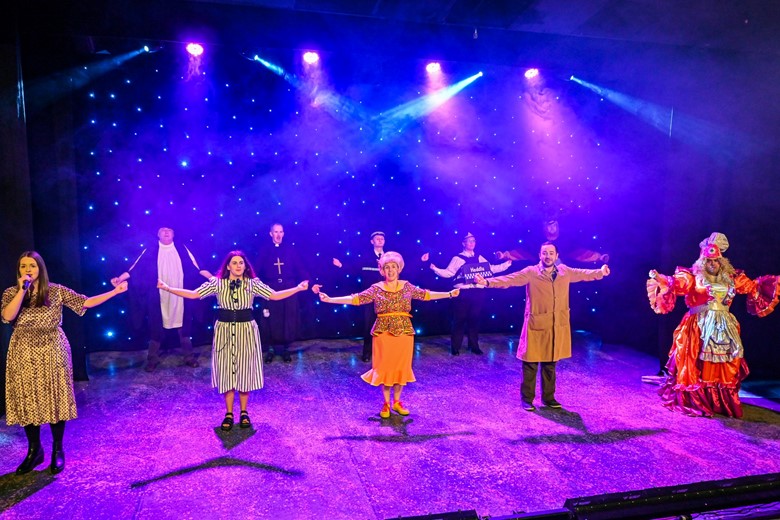 Theatr Felinfach near Aberaeron has been producing original Welsh language theatre for over 50 years, involving community and professional performers.  The theatre also hosts concerts and touring performances.
Check locally for summer or pantomime shows at Aberaeron or New Quay Memorial Halls, or special events at the Pafiliwn at Pontrhydfendigaid. The arts are alive and well at Llandysul too with the Pwerdy/Powerhouse overlooking the river Teifi being the place to enjoy art and music.
Ceredigion choirs, orchestras and bands
One of the rich traditions of Wales is choral singing and Ceredigion has almost thirty choirs of different sizes and styles performing for local, national and international audiences.   
As well as being entertained at local concerts, it is possible to visit several of the choirs in their rehearsal space.
First formed as the Aberystwyth Post Office Gleemen, Aberystwyth Male Voice Choir went on to success at National Eisteddfod competitions and has regular concert tours in Europe, the United States and Canada as well as the UK. The rehearse every Thursday evening at Aberystwyth Rugby Club.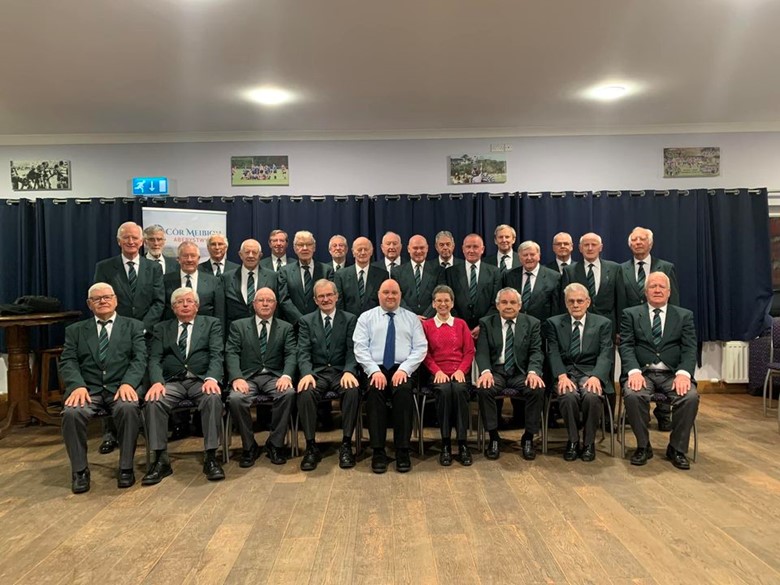 Cor Meibion Cwmann, the male voice choir for the Lampeter area celebrates it's 60th anniversary in 2024. The choir draws members from the surrounding area and holds concerts for various local charities.  Cor Meibion Caron is also a traditional male voice choir, and meets in the vestry of Bwlchgwynt chapel in Tregaron. 
There are a number of smaller singing parties who sing and entertain at local venues, including Meibion y Mynydd who rehearse at Ponterwyd village hall.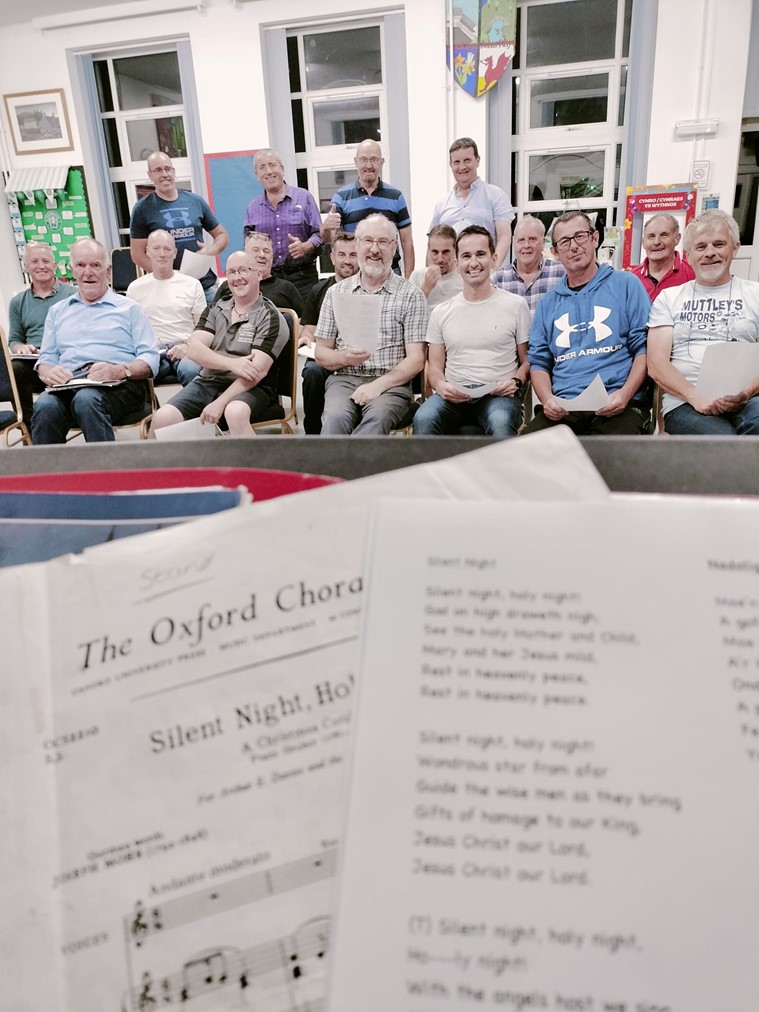 Cor Teifi is a mixed choir who rehearse at Capel Mair chapel in Cardigan. They give regular local concerts including at Rhosygilwen, a beautiful concert venue a few miles outside Cardigan.
You may recognise Sgarmes from their appearance on TV in the Pitch Battle competition series.  They hold concerts and a popular annual Christmas Singalong special at Aberystwyth Arts Centre. Look out too for concerts by Aberystwyth choirs Cor ABC who hold an annual Christmas concert at St Padarn's Church in Llanbadarn and Cor Ger y Lli.