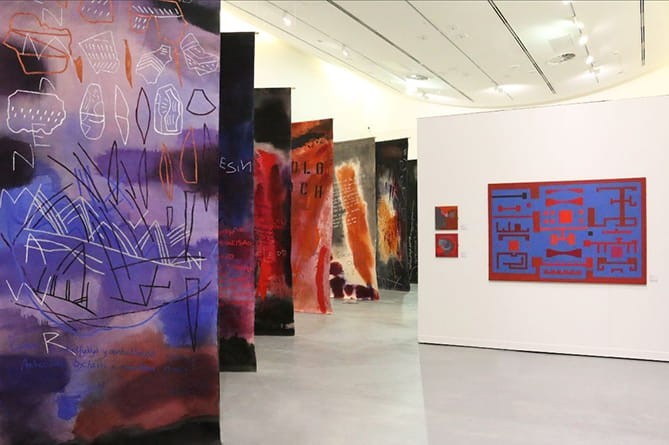 Aberystwyth Arts Centre
The Arts Centre complex is found on Aberystwyth University's Penglais Campus. It has several gallery spaces as well as a ceramics studio and creative pods where artists spend a period as artists in residence.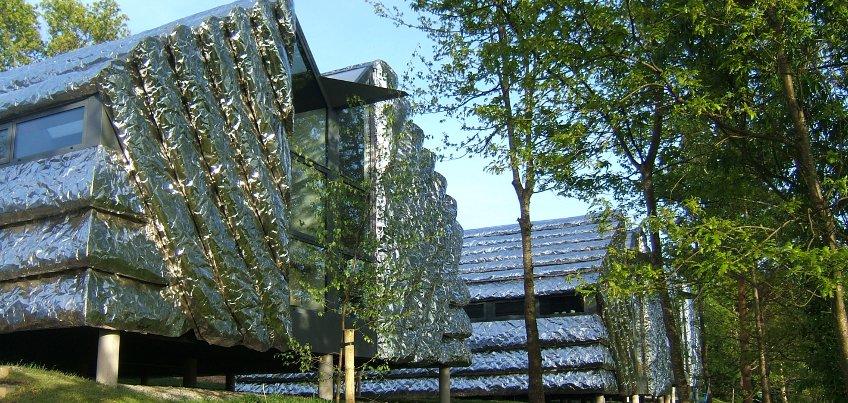 Aberystwyth University's collection of ceramics is of international importance, particularly the British pioneer studio pottery of the early 20th century including works by the Martin Brothers, Bernard and others.  The famous Swansea and Nantgarw porcelain features in the collection as well as contemporary British, European, American, and Japanese studio pottery. Every two years, Aberystwyth Arts Centre hosts the International Ceramics Festival, with demonstrations and talks by renowned international ceramic artists, firings and displays.
Aberystwyth University School of Art
The University's School of Art is housed in a beautiful 1920s building in its own grounds near the centre of town. Its collection includes over 20,000 examples of fine and decorative art: prints, photographs, drawings, watercolours, ceramics, paintings and sculpture.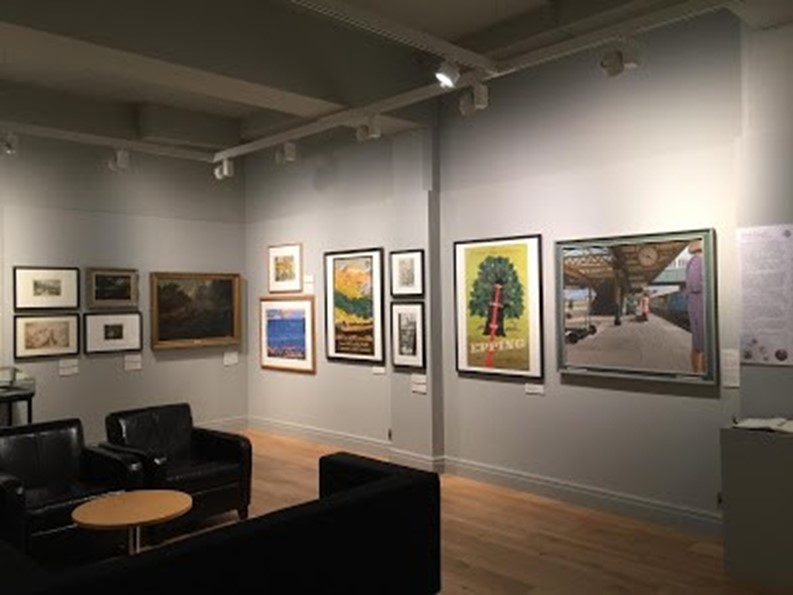 The collection includes the George Powell of Nanteos 1882 bequest of pictures, bronzes and objet d'art, and there are over 5,000 wood engravings and prints representing the Etching Revival from Whistler to the 1930s. Other significant areas of interest include art in Wales since 1945, contemporary British printmaking, Welsh photography and an outstanding collection of 20th-century Italian photographs. The School of Art stages up to twelve exhibitions from its art collections alongside national touring exhibitions, shows by invited artists, and staff and students of the School of Art.
National Library of Wales
Aberystwyth is also home to the National Library of Wales, which along with maps, manuscripts and documents, has a vast collection of portraits, paintings, prints and other works of art. The Library specialises in images relating to Wales and the other Celtic nations. The collection includes works by JMW Turner, Thomas Gainsborough and Paul Sandby, as well as paintings by well known Welsh artists including Kyffin Williams, Ceri Richards, Mary Lloyd Davies, Richard Wilson and Turner.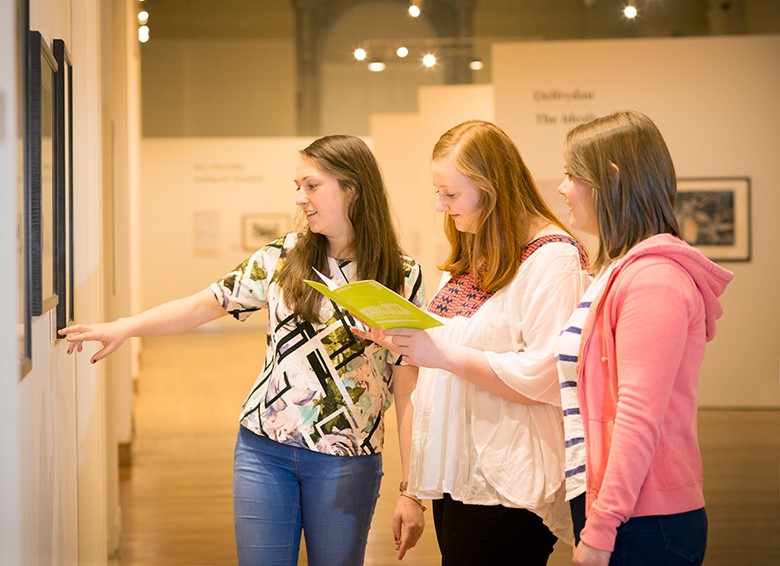 The Library's exhibition programme includes permanent and changing temporary exhibitions across a range of exhibition spaces.
Ceredigion Museum
The museum is home to both permanent and temporary displays that explore Ceredigion's heritage, culture and art.  The art collection is diverse and eclectic in both style and content, reflecting the life and history of its local population, including scenic paintings by 19th century artist Alfred Worthington.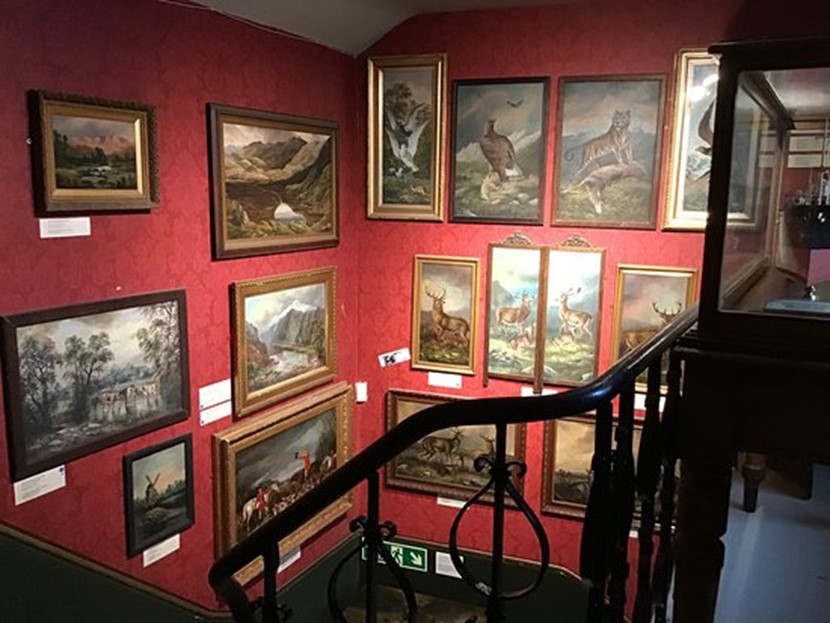 The museum organises temporary exhibitions on local history and art. 
Ceredigion Art and Craft Trail and Ceredigion Craft Makers
We're lucky in Ceredigion to have so many artists and makers living and working in the area, and who enjoy welcoming visitors to their workshops and studios across the county. The Ceredigion Art and Craft Trail is is a great way to get around Ceredigion, in the knowledge that you will find a welcome in town and country studios and galleries by talented artists and makers working in a variety of media, happy to share their enthusiasm for their craft and their locality.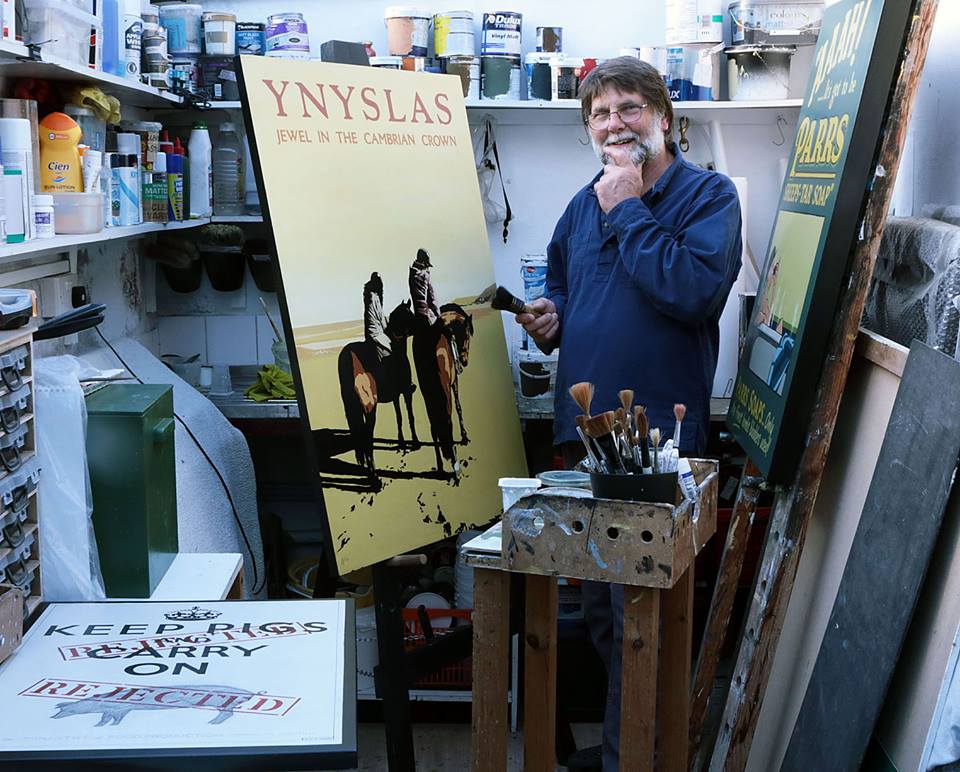 Ceredigion Craftmakers are a co-operative or artists, designer-makers and craftspeople who work in Ceredigion. They hold a series of events, including 'meet the maker' exhibitions at Aberystwyth, Cardigan and NT Llanerchaeron. Craft in wood, wool, metal, ceramics, glass as well as painting and photography are featured.
Independent art galleries, shops and craft courses
There are a number of delightful smaller galleries across Ceredigion where you will find fine art by local and the best professional artists.   Oriel y Bont, Aberystwyth promotes more than forty artists, ranging from exciting young newcomers to the established, successful and famous, all with strong Welsh roots and connections. Housed in a discreet Victorian building you'll find original art, prints and cards, as well as a bespoke framing workshop.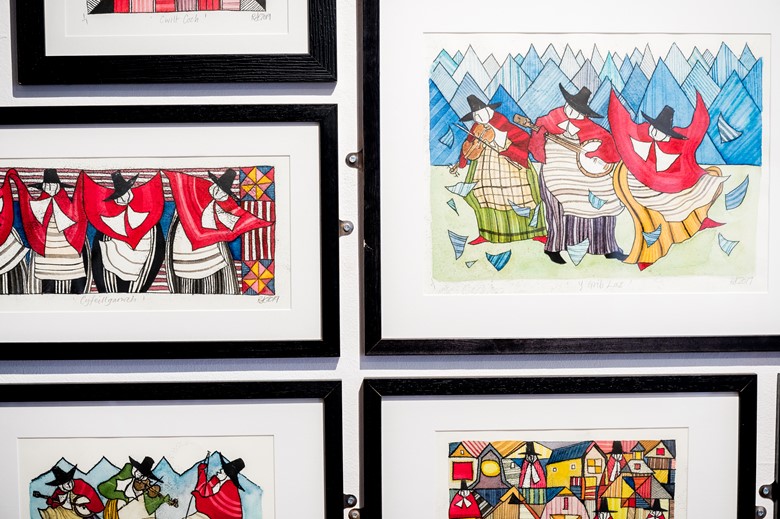 A short distance in the direction of the sea-front you'll find Driftwood Designs,  known for its bright, bold designs including collages and paintings on recycled wood and driftwood. Artist and illustrator Lizzie Spikes' work is available as original art work, prints, cards, homeware and giftware. Driftwood Designs also have an outlet on the harbourside in Aberaeron.
As short drive or train ride away is the seaside village of Borth which is clearly the home of creatives, with colourfully decorated houses. Here you'll find 2 London Place,  a small independent gallery shop specialising in original artwork, beautiful homeware and more. A programme of art events and workshops is held in the purpose built, airy, art room.  
Just a short train or bus ride away is MOMA Wales - the Museum of Modern Art, Machynlleth. There are seven exhibition spaces including a gallery showing the Tabernacle Collection of 20th and 21st Century art from Wales and a dedicated sculpture space. The former Tabernacle Chapel hosts a programme of music and other events.
Aberaeron, with its colourful 'postage stamp' rendered houses has an outlet of Driftwood Designs on the quayside, and Galeri Gwyn showcases new work from established artists living and working in Wales as well as exhibiting the work of early career creative practitioners. The gallery presents an innovative programme of free exhibitions, with new show openings of solo exhibitions and themed group shows every 8 weeks. 
There's also a popular annual art exhibition held in the town's Tabernacle Chapel vestry.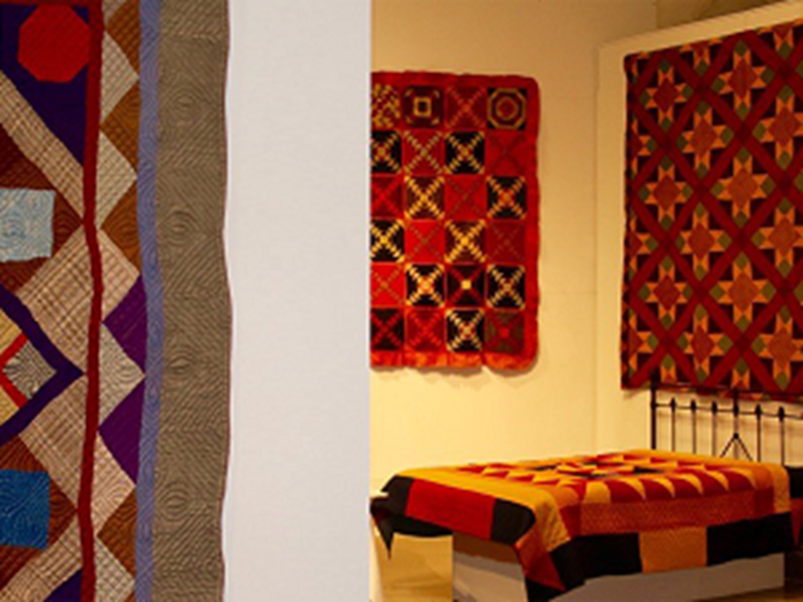 Inland, Lampeter is the home of the Welsh Quilt Centre which hosts an annual exhibition of traditional and modern quilts from the vast collection of Jen Jones. Housed in the former Town Hall in Lampeter, the Centre also has exhibitions of artists and textile artists' work, and holds a number of art and textile courses throughout the year.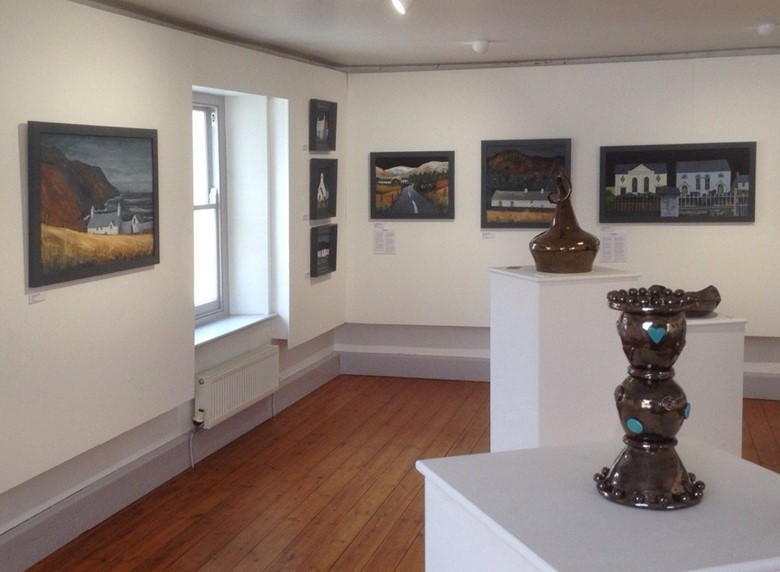 At Tregaron, Oriel Rhiannon  is a gallery space in the Rhiannon Gold Centre, established in 1971 by Rhiannon Evans, a jewellery designer with an international reputation for her original and unique interpretations of the Welsh and Celtic artistic traditions.  The gallery specialises in Welsh and Wales-based artists with a programme combining solo and group shows in a variety of media.
Follow the Teifi Valley to Llandysul, where you will find the Powerhouse community arts centre which hosts exhibitions, workshops and art classes. Also in Llandysul is Cariad Glass, a stained glass artists studio open to visitor as well as an emporium of hand-crafted stained glass gifts and mirrors.  Nearby there is a cluster of individual artists' studio galleries: pottery and painting classes are held at Gabrielle's Gallery, an art gallery which is packed with original paintings, ceramics and ceramic sculptures, whilst the fine art studio gallery of Diane Mathias can be found at Henllan.  Down on the coast at Llangrannog, you'll find the tiny Sea and Slate gallery, run by a cooperative of local artists and open on a seasonal basis. 
Cardigan is a hub of creativity, with several galleries and art workshops. Canfas, located opposite Cardigan Castle has 4 gallery spaces with a regularly changing display of new paintings, sculptures, ceramics and limited edition prints and commissions by some of the very best Welsh contemporary artists.  Exhibitions consist of a mix of solo and thematic group exhibitions along with other cultural events.
The Corn Exchange Gallery hosts changing exhibitions by local artists and craftmaker. The building itself is of interest as it was one of the first civic buildings to be built following the principles of the eminent Victorian art critic, John Ruskin. Custom House Gallery , as its name suggests is housed in the historic Custom House building, and sells a range of crafts. Nearby is the Seagull exhibition space.
If you want to learn how to make a range of craft items, look up what's on at Stiwdio 3. This creative space on the High Street holds regular classes with artists and craftmakers, whilst Walden Arts is in a refurbished Grade II former sail loft in the town's Mwldan district, offering courses in painting, drawing and printmaking as well as regular events and exhibitions.  
On the High Street you'll find Welsh bookshop and gallery Awen Teifi.  The gallery displays work by well known local artists including Meirion Jones.