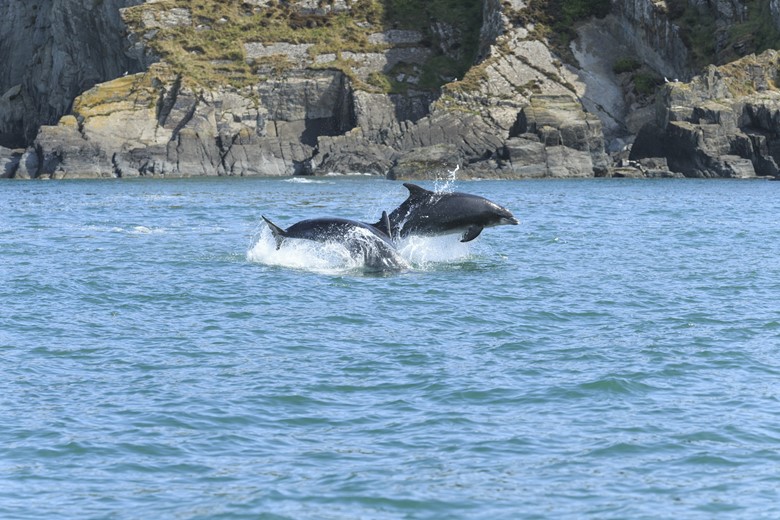 New Quay is one of the 'hotspots' for spotting Cardigan bay's bottlenose dolphins, from the shore as well as from a guided boat trip. Both the Wildlife Trust of South West Wales and the Seawatch foundation have a base in New Quay, and scientists often accompany trippers on the boats to survey the population of dolphins and porpoises that are semi resident in Cardigan Bay. 
There is choice of trips available, with experienced boat skippers and guides who know the best and most appropriate places to spot wildlife, and how to handle the craft for the best view without intruding on the animals and causing a disturbance.​
Tours vary in length from one hour excursions to whole day trips lasting 8 hours. Choose from 1 hour, 1.5 hours, 2 hours, 4 hours and 8+ hour trips. Check the individual boat operators sites for timetables, fares and special trips.
What to look out for on the Ceredigion coast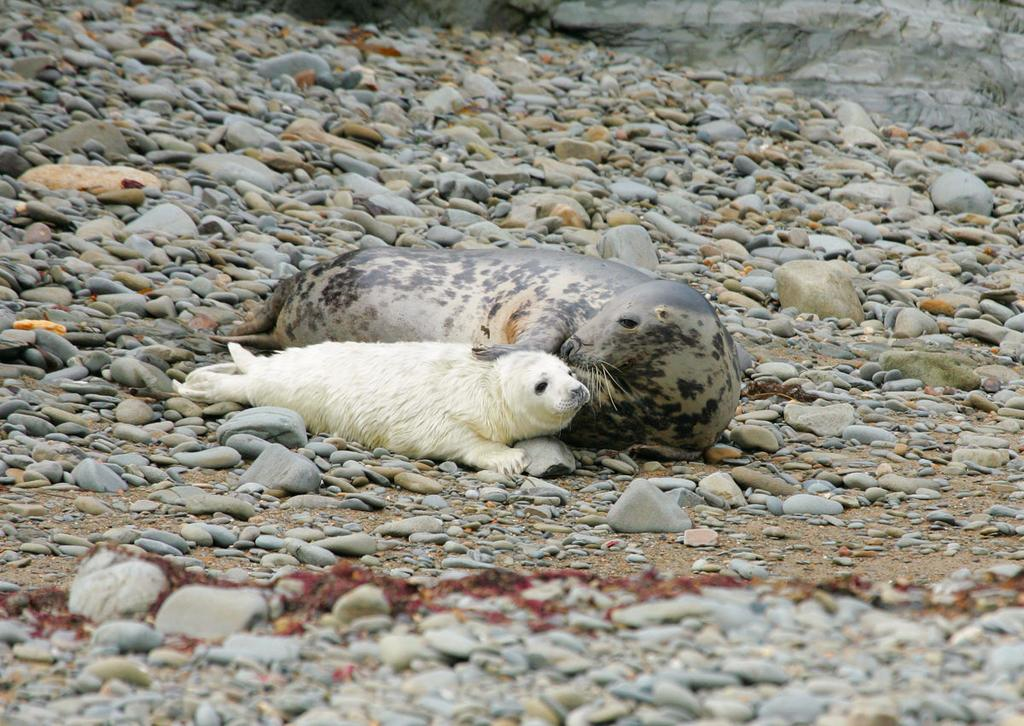 Atlantic Grey Seals like Ceredigion's secluded coves and sea caves, especially when the female 'cows' need peace to give birth and rear their young pups in autumn. Seals can often be seen from the coast path, especially around Mwnt, Cwmtydu and Bird Rock near New Quay.   Many caves and waterfalls are best and safely viewed from a boat - there are  regular trips are available (see panel).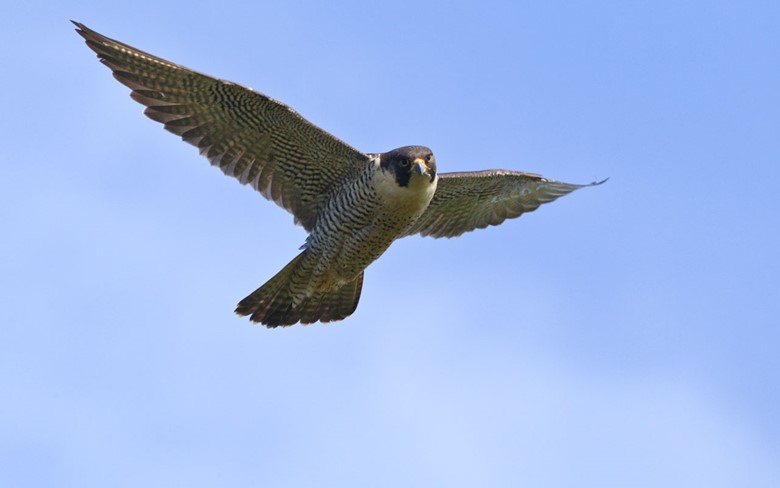 Aptly named Bird's Rock, on the Ceredigion coast path just south of New Quay, is one of the best places to see Ceredigion's marine wildlife, including grey seals and bottlenose dolphins as well as the colonies of guillemots crowding onto the rocky ledges.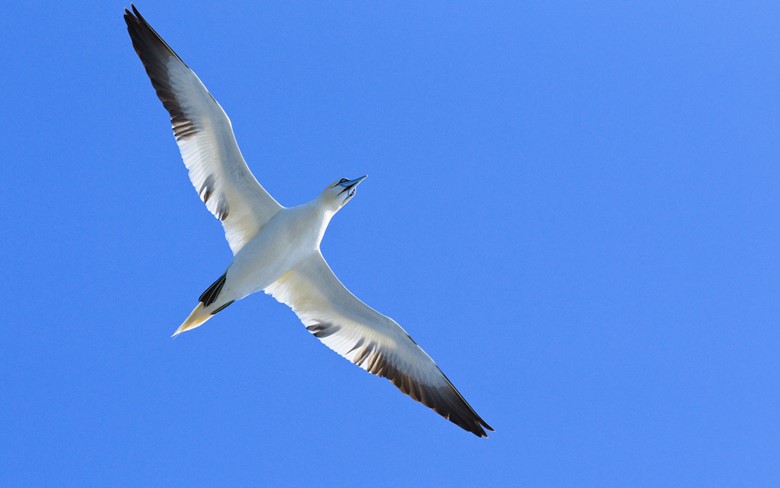 Other birds to look out for along the Ceredigion coast include razorbills, kittiwake, fulmar, shag and gannets, the UK's largest seabirds. With a six foot wing span, they make a spectacular sight as they dive for fish.
Look out too for the Chough, the rare crow with  its distinctive red beak and legs.   The sea cliffs are also the haunt of Britain's fastest bird -peregrine falcons can reach speeds of 200mph.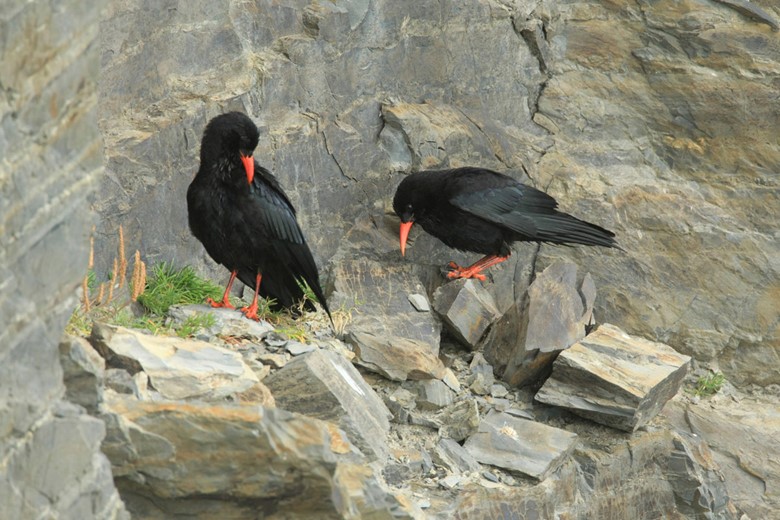 Flowering plants include blackthorn (prunus spinosa, or sloe), yellow gorse, (ulaeus europaeus) pink or purple hued thrift (armeria) and white sea campion (silene maritima).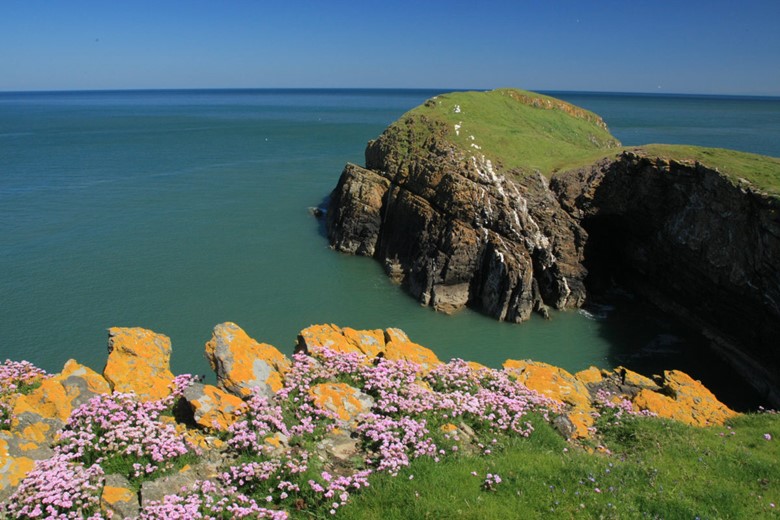 The combination of lichen, plants, cliffs and sea are a photographers delight.  At Ynys Lochtyn, just to the north of Llangrannog, the carpets of bluebell-like spring squilla (scilla verna) can be seen in the short grass of the cliff edge as well as cloud like tufts of thrift.  Orchids can also be spotted in many coastal meadows.