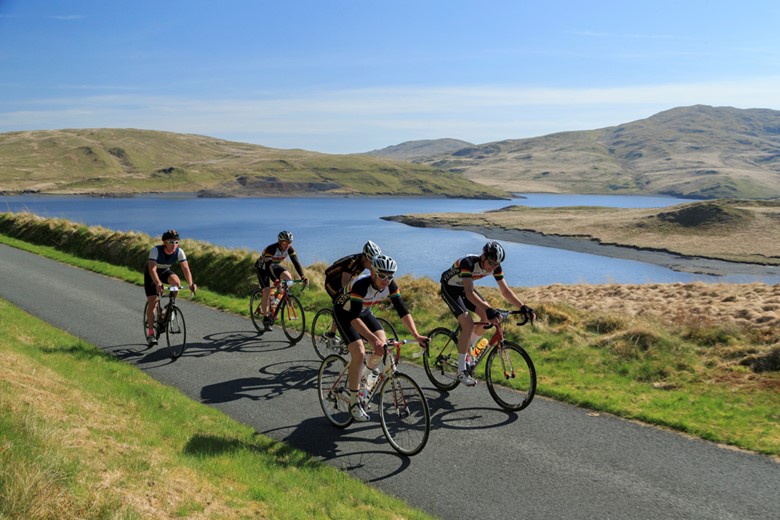 ​Like our rivers, the choice of cycling in Ceredigion can vary from gentle, undulating routes or fast descents, which, inevitably can be combined with challenging uphills, but which are always rewarded by magnificent views.  Our lanes are quiet, and there's plenty of off road cycling too. 
Cycling Trails in Ceredigion
Designated routes such as the Ystwyth Trail and Rheidol Trail from Aberystwyth or the Cardi Bach Trail​ from Cardigan are linked with the Sustrans National Cycle Network and can form part of a more extensive cycling trip.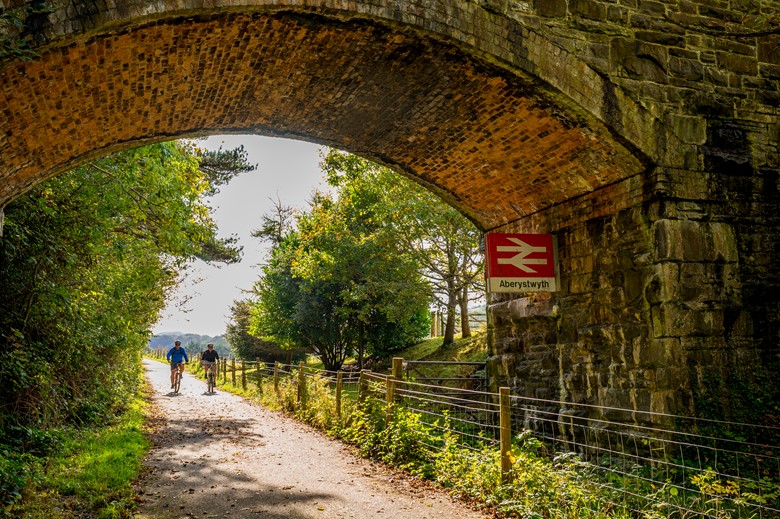 Mountain Biking in Ceredigion
Ceredigion makes and excellent base for mountain biking , with great tracks and bridleways​ to follow on do-it-yourself trips or rides with local guides. See the panel for some suggested routes.
The mountain biking centre at Bwlch Nant yr Arian near Aberystwyth is great for views as well as technical challenges.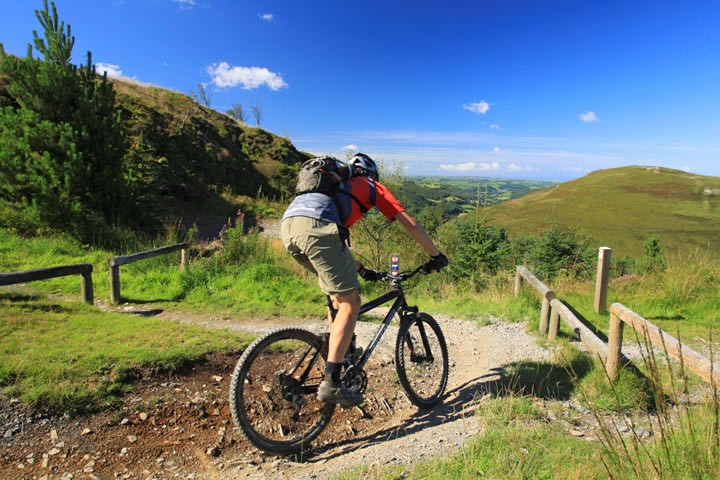 There's a choice of three routes​, each with a different character:
The Summit trail is exactly what the name suggests, superb views and flowing single track rides. The Pendam trail also has fantastic views, combined with some technically challenging sections. The third, Syfydrin,​ trail extends out onto the open hills.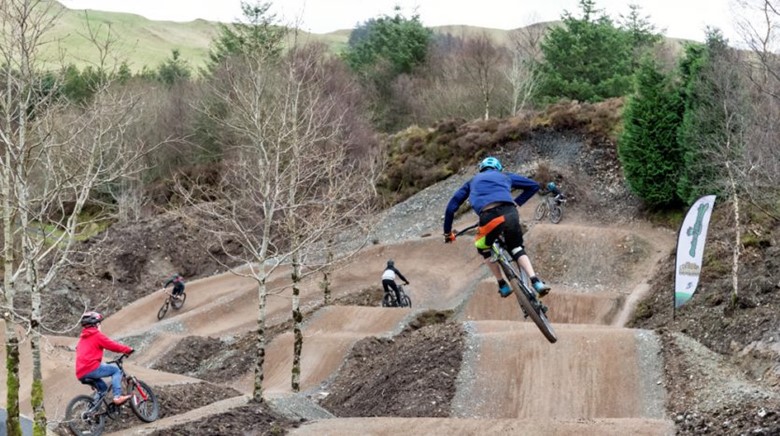 A purpose-built 'pump track' has a number of loops with 'rollers' and 'table tops' - features that riders of all abilities can have have a go at, practice their skills on, or just warm up before taking to the longer trails which start from the same spot near the visitor centre.
There's great mountainbiking in Ceredigion's Cambrian Mountains and many of Ceredigion's bridleways are also suitable for mountainbiking.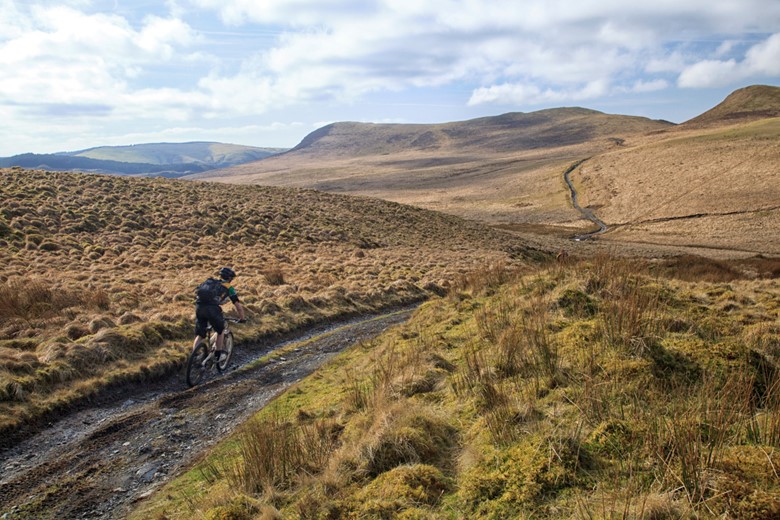 Gravel Biking
Another form of biking that is growing in popularity is gravel biking, with bikes which are more durable than a road bike and much faster than a mountain bike. Ceredigion has  great routes that combine gravel trails, narrow country roads and bridleways offers some of the best adventure cycling in the UK.   Local experts Summit Cycles have curated a number of routes of varying lengths and ability levels, from their base in Aberystwyth which they describe as ranging from "short spins to epic marathon length grinders" all with guaranteed views to enjoy.  blessed with some of the finest adventure cycling in the whole of the UK. Check out the routes recommended by adventure sports event specialists Red Bull  - two of their top six routes are in Ceredigion, and longer distance bikepacking routes with overnight stops at bothies and campsites including the Claerddu Bothy in the hills above Pontrhydfendigaid on a route that also takes in the forest tracks of the Hafod Estate.
Ceredigion Cycling Clubs
Ceredigion has a very active cycling community from which professional cycling stars have emerged, including Gruff Lewis of Aberystwyth and the Tarling brothers of Aberaeron.  The clubs are active in a number of disciplines including Road Racing, Time Trials, Mountain Biking, Triathlon, Duathlon, Touring and Track, and organise regular rides and competitions.
Ystwyth Cycling Club is Ceredigion's largest and longest established club. Formed in Aberystwyth in 1952 the Ystwyth Cycling Club  now has approximately 100 members who are active in a number of cycling disciplines, including Road Racing, Time Trials, Mountain Biking, Triathlon, Duathlon, Touring and Track.  The Club organises weekend rides throughout the year, and are key partners in the Aberystwyth Cycle Festival, organise the Angela Davis Memorial Road Race (Cat 2/3)  and the 'Tour of the Mining Valleys' race (cat E/1/2/3), renowned for its tough climbs.
 West Wales Cycle Racing Club is based in Abaeraeron, the start point of the 'Queen Stage' of the 2021 Tour of Britain. During the summer, the club has skill sessions for youngsters in safe off-road locations.  Anyone is welcome to attend, including visitors to the area.
Velo Teifi is an an active club with an emphasis on enjoyment rather than 'head down/ bum up' speed sessions (although they do that too!) with road rides most weekends throughout the year as well as mountain bike trips. Club website has suggestions and gpx guides to local rides.  Velo Teifi are the organisers of the 'Preseli Angel' cyclo-sportive each early May Bank Holiday weekend in nearby Newport in north Pembrokeshire; this event is a firm favourite in the Sportive calendar offering great routes and a friendly atmosphere.
Sarn Helen Club is a sister club to the long established Sarn Helen Running Club based in Lampeter. Caron Cycling Club is a relatively new club, whose members enjoy great cycling country around their base in Tregaron. These neighbouring clubs often organise rides together. making the most of the wide open spaces of the Cambrian Mountains and quiet roads of the upper Teifi valley. One popular route is the circuit around the great raised bog of Cors Caron.  The ride between the two Teifi Valley towns is another route popular with beginners and enthusiasts alike as it follows the gentle route of the Teifi along quiet backroads.  Together, they are the perfect base for mountain biking and gravel routes that take you into and across the Cambrian Mountains. 
Aberystwyth Cycle Festival
Aberystwyth's annual Aberystwyth Cycle Festival​ brings together a spectacular downhill mountain biking competition and an even tougher uphill challenge, as well as the 'Welsh Wild West' sportive with a choice of route lengths, fun races for children and 'town and gown' criterium races.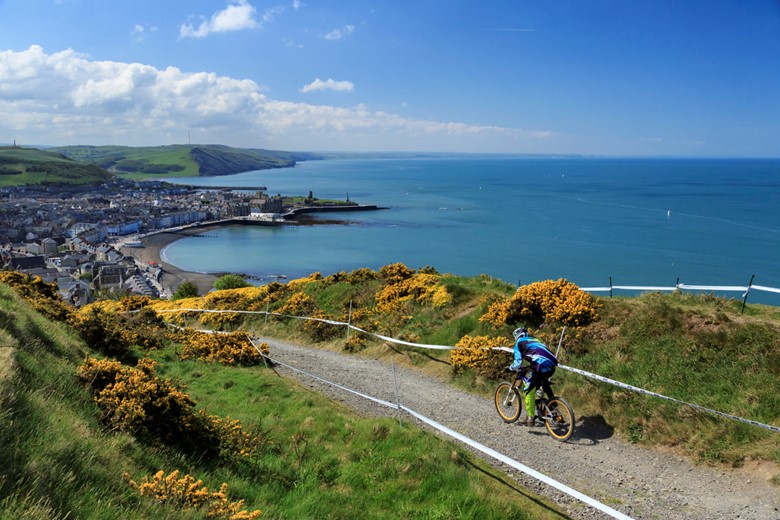 With some of Britain's top cyclists making an appearance in Ceredigion, festival visitors can watch the on and off-road action and also experience the beautiful and undiscovered lanes of Ceredigion on their own bikes. The popular Welsh Wild West sportive gives you a choice of four different routes to suit your mood and stamina: Cawr (the giant), Mynach (the monk) Diafol (Devil) and Corrach (the dwarf)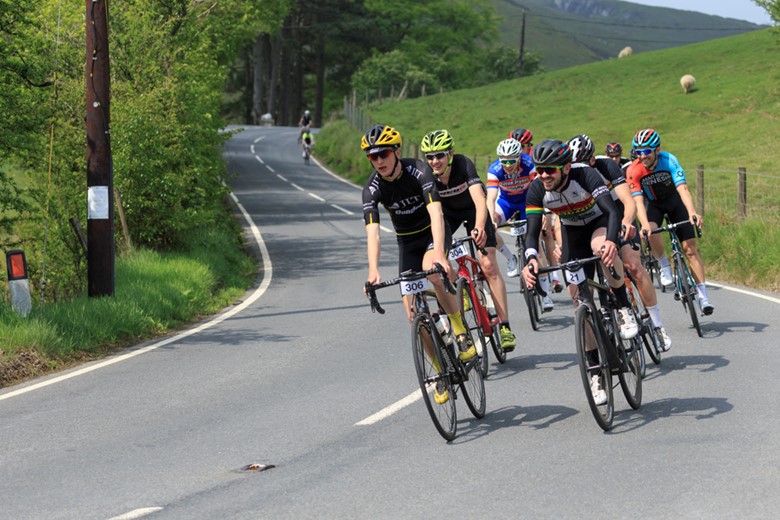 The race details will be available on the British Cycling​ website when entries are open.
Gritfest
The Gritfest weekend is a family friendly event focused on off-road biking over a mixture of terrain in the Cambrian Mountains. It includes timed special stages on gravel and a mixture of terrain in forestry, around lakes and wild moorland. Children and families can take advantage of youth rider coaching and enjoy outdoor adventures with activities ranging from archery to tree climbing and wildlife encounters.