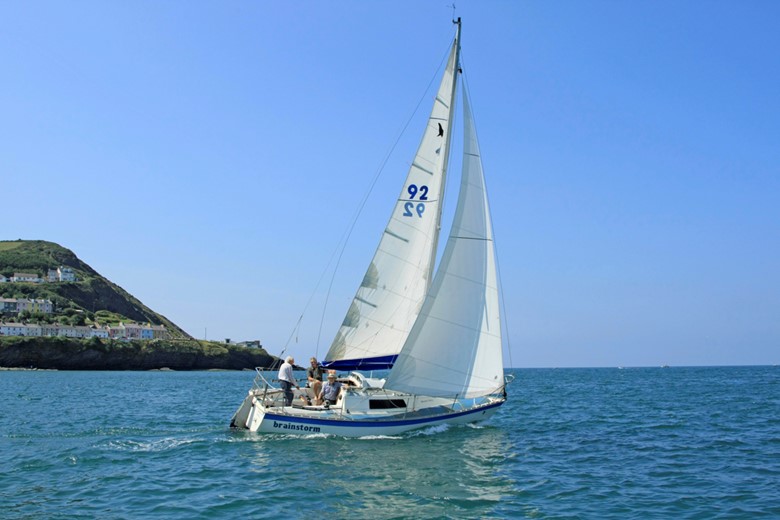 Sailing 
With a strong heritage of seafaring it's no surprise that sailing is a popular sport along Ceredigion's coast, with clubs at the harbours of Aberaeron, New Quay and at Gwbert, near Cardigan on the Teifi Estuary. There are also visitor berths at Aberystwyth harbour and marina​.
Sailing events at New Quay are organised by New Quay Yacht Club in partnership with Cardigan Bay Watersports Centre. Sailing competitions start as early as  January or February with the appropriately names 'frostbite' races. 
The Cardigan Bay Regatta is a three-day annual event, with sailing races for all classes as well as swimming and rowing competitions. On shore there are are range of  activities for children and families, starting with sandcastle building competitions on the first day. New Quay is one of the oldest regattas in the UK, first being held in 1829; the 2023 regatta will be the 147th Cardigan Bay Regatta!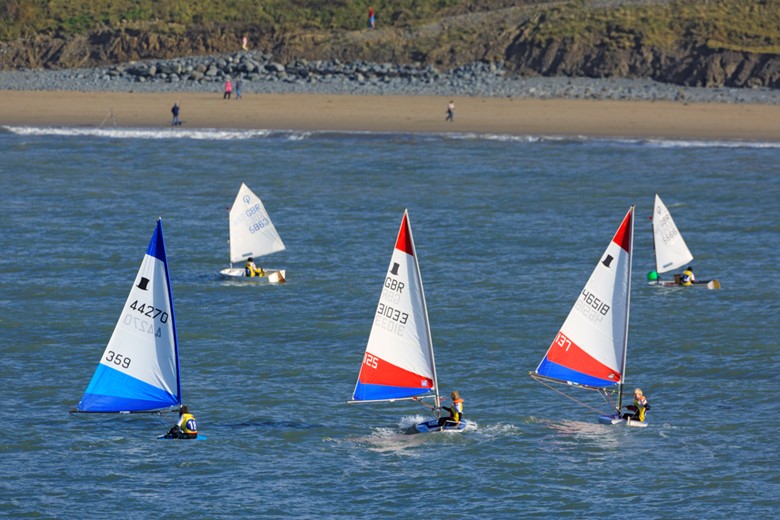 Regattas are also held at Aberaeron, Tresaith and Cardigan, and there are a number of on-shore events held at Aberaeron harbour and Aberystwyth Marina quayside.
Celtic Longboat and skiff rowing
Celtic longboat rowing is a popular sport in Ceredigion with seven established clubs along the Ceredigion coast at Aberporth, Tresaith, Llangrannog, New Quay, Aberaeron, Aberystwyth and Borth.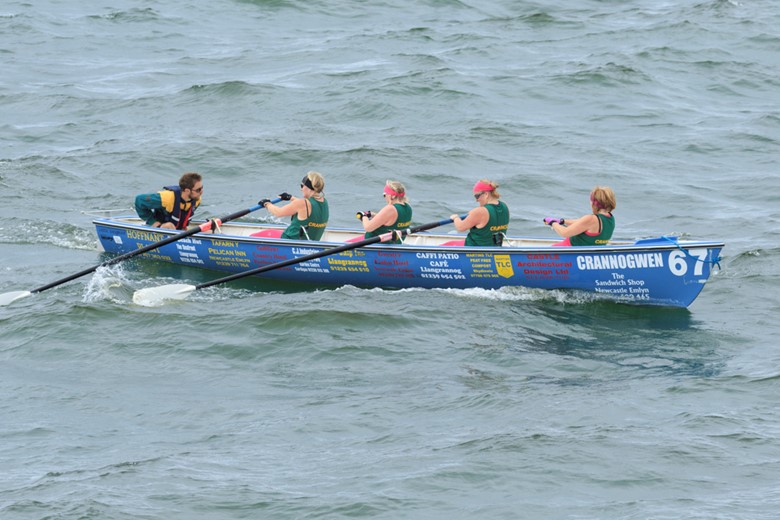 Every two years, usually in May, the clubs compete in the a gruelling race held every two years between Arklow in Ireland and Aberystwyth in Ceredigion. The fastest boats in the Celtic Challenge rowing race can make the crossing in just under 15 hours.
Competitors from several countries compete in teams of 12 who take it in turn to row in fours with a cox in open celtic longboats or skiffs.
There are all kinds of craft on the River Teifi at Cardigan providing displays and competing in fun challenges during the Cardigan River and Food Festival.​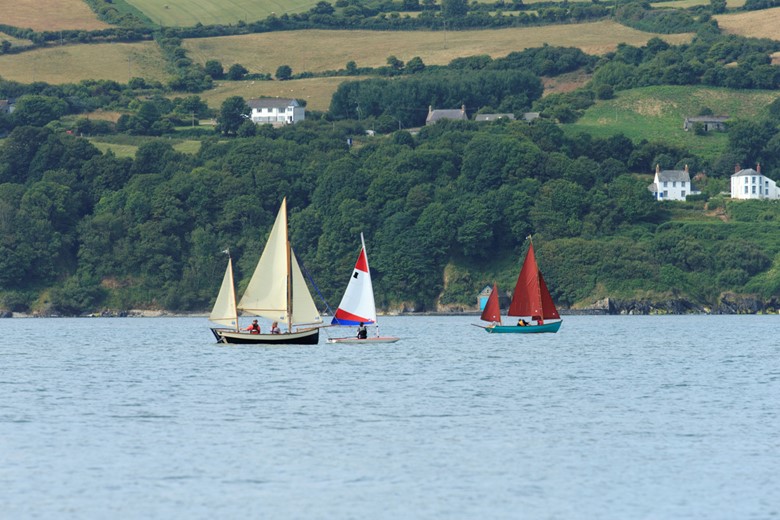 Ceredigion's surf beaches
Our waves are generally quite mellow, breaking on beautiful flat sand beaches, ideal for learning to surf or progressing quickly, but the south westerly prevailing winds, combined with strong tides can also produce some of the biggest surf waves along the west coast. 
Borth is a popular beach, with plenty of space, and reliable conditions, whereas further along the beach at Ynyslas, which is more exposed, the surf can be much bigger. 
South of Aberystwyth, Llangrannog and Aberarth are popular surfing spots with locals.
The large, horseshoe shaped bay and sandy beach at New Quay are sheltered from rough winds, making it a great location for a taster session or a family day of watersports.
In southern Ceredigion, on the Teifi estuary, the conditions at Gwbert are good for surfing and for wind and kitesurfing too.
River and and whitewater sports
A centre of excellence for Canoe UK, the Paddlers​ Canoe Club and Outdoor Education Centre at Llandysul offers a range of coaching courses and outdoor adventure experiences.
You can try whitewater kayaking, or even gorgewalking or 'tubing' with Adventure Beyond who know where the best places to go to are along the Ceredigion and north Pembrokeshire coast and rivers.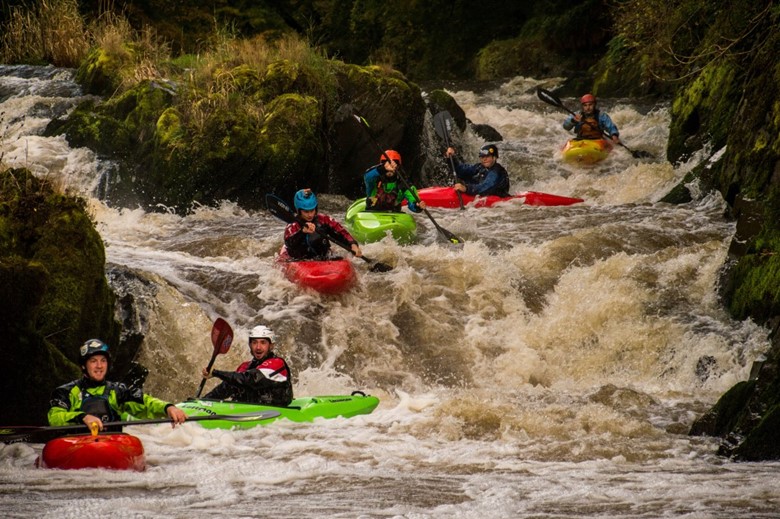 Sea kayaking
Sea kayaking is a perfect way to explore the Ceredigion Heritage Coast's hidden coves and sea caves and to spot wildlife​ including seals, dolphins and seabirds.​​​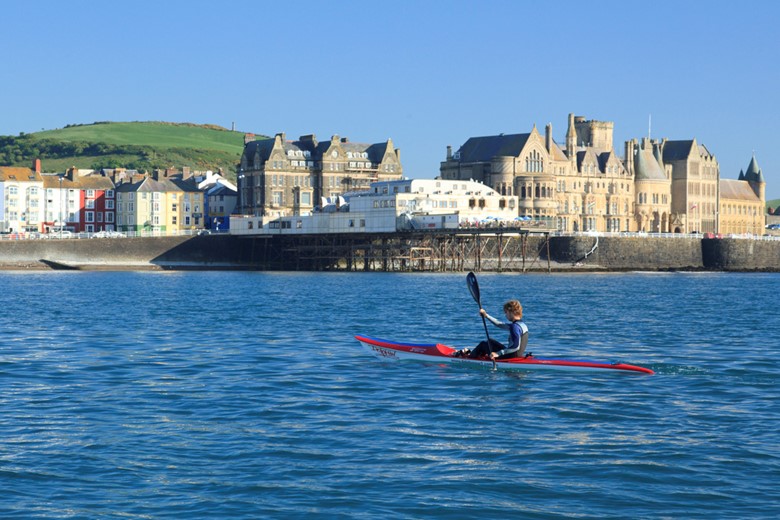 Conditions can change quickly, so please keep do not kayak alone on the sea, keep an eye on the weather, and check the Ceredigion Tide Tables.
Most of Ceredigion's beaches are easily accessible and good for launching kayaks. Once you're on the water, you can get to secret coves, otherwise inaccessible to beach users or coast path walkers.