Llangrannog village beach is a sandy cove nestling between dramatic cliffs. Fishing boats and surfing equipment are gathered around the slipway at the western end of the beach. From a perfect picnic spot on the clifftop above, a statue of St Carannog casts a timeless gaze over the beach and the horizon.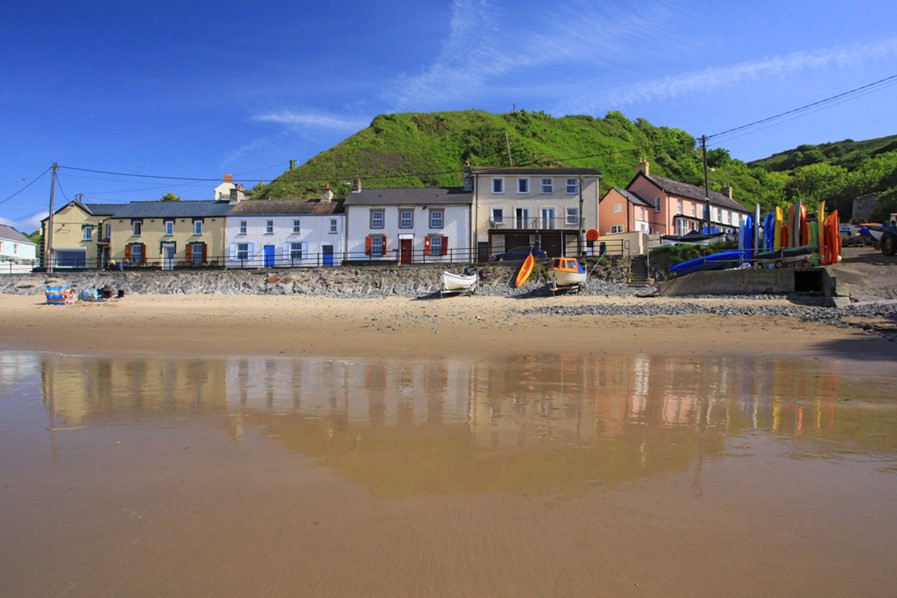 Llangrannog and Cilborth beaches
The river Hawen gently flows across the village beach, cutting patterns between the pebbles and sand, providing hours of fun for children building sandcastles and temporary dams, whilst the eastern side of the beach has smugglers caves and rockpools to explore.
Cilborth beach is easily accessible from Llangrannog village beach at low tide, and can also be accessed down a steep flight of steps from the Wales and Ceredigion Coast Path.The sheltered cove is a favourite canvas for sand artists whose work can be best viewed from the Coast path on the clifftop above.  
The two beaches are divided by the distinctive rock formation known as Carreg Bica which is the basis of a local legend about a giant and how he was relieved of his toothache. The rock also has interesting geology and even has tiny fossils hidden between its craggy folds.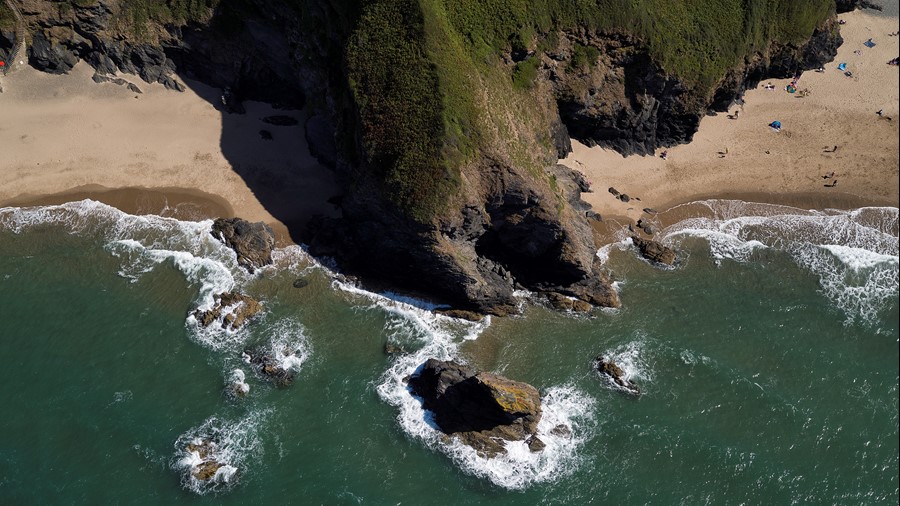 Between Llangrannog and the rocky peninsula of Ynys Lochtyn there are several secret coves which appear at low tide, but are only accessible by sea.  There are also several rocky formations and quiet caves where seals love to rest undisturbed.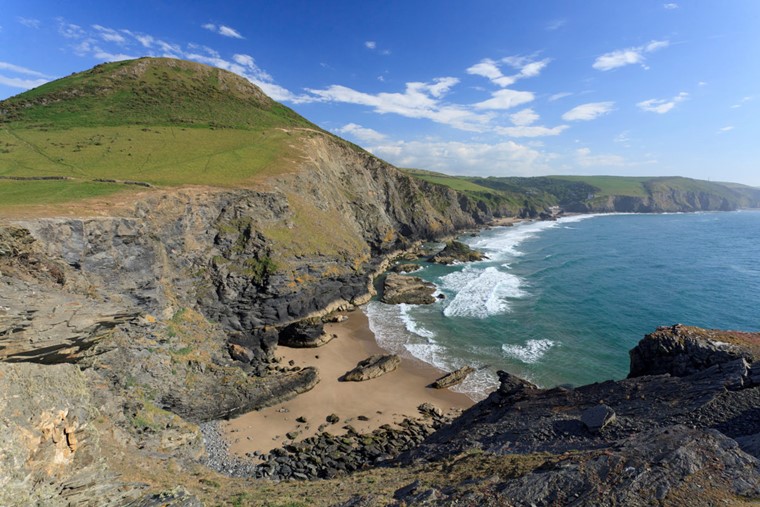 Ynys Lochtyn is an island at high tide, stretching out to sea like a finger across the horizon, visible from almost anywhere along the Ceredigion coast.  The clear waters are popular with experienced divers as well as the Cardigan Bay bottlenose dolphins.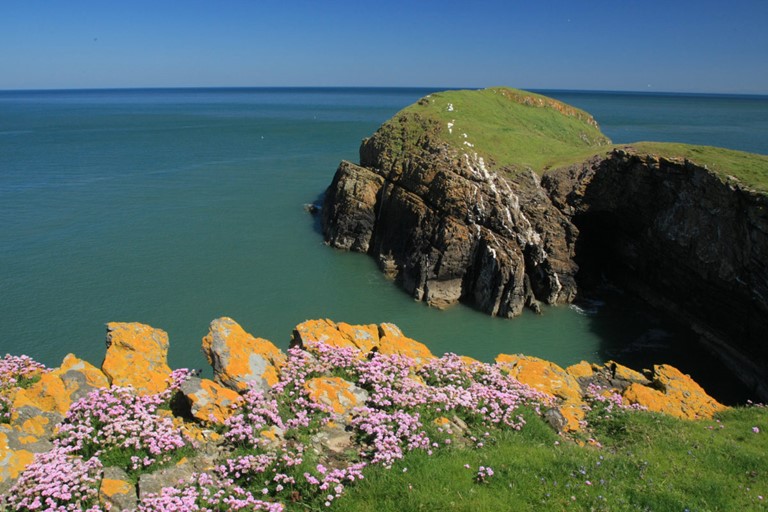 Geological heritage
The village of Llangrannog across the boundary of two types of very old rock formations known as Silurian and Ordovician. These names, internationally recognised and used by geologists worldwide, were taken from the names of two Celtic tribes that once occupied Wales. These  slate and shale rock formations of Palaeozoic times were laid down in the seas of 400 - 500 million years ago. At this time most of Wales was under the sea and on the edge of a large continent.
Later, the immense forces that formed the Welsh mountains raised up the seabed, squeezed them against even older rocks, compressing the layers of mud, and caused them to be folded and faulted.  With rising sea levels, waves eroded the softer rocks and glacial soil deposits, exposing the harder rocks, creating cliffs and headlands as well as scouring out caves and leaving unusual outcrops like Carreg Bica.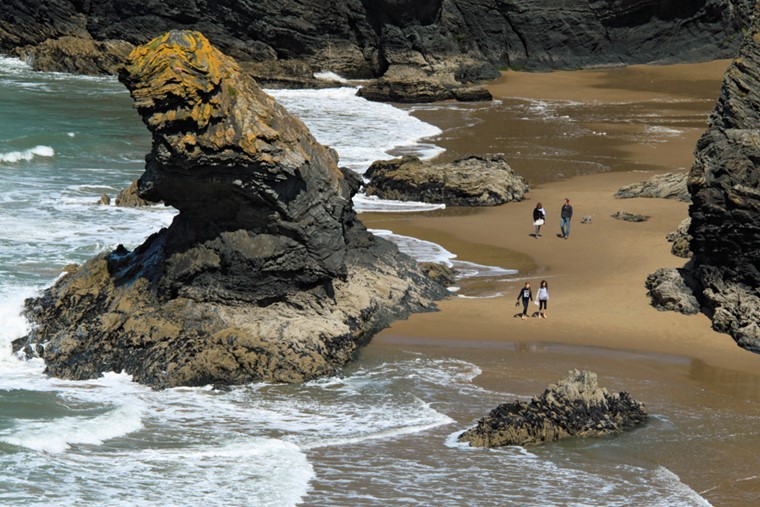 Look closely at Carreg Bica – it has clear layers and contorted folds of rock at its base. Dark layers of mudstone often contain well preserved graptolites, a form of prehistoric plankton. Their remains are often used to date rocks. The name is derived from the Greek meaning 'written rock'.
A seafaring village in a divine location
Llangrannog was founded by a sixth century sea travelling Celtic saint, called Carannog, a friend of St Patrick, patron saint of Ireland.  According to legend a dove showed Carannog where to build his church. Although the present church building dates from the 19th century, the original 6th century church on the site would have been constructed of wood.  The first settlement at Llangrannog grew around the church founded by St Carannog, on a site in a wooded valley, hidden from the coast and Viking raiders.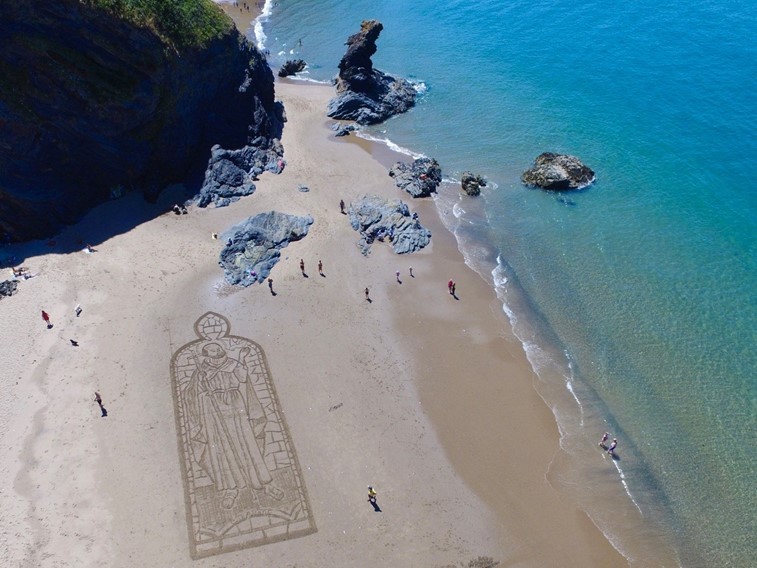 There is a nearby cave which is associated with St Carannog. Also nearby is St Mary's well, which was a popular destination for pilgrims who would take the water for health purposes. Llangrannog has continued to be a popular holiday destination. The composer, Sir Edward Elgar whilst staying in Llangrannog, is said to have been inspired to compose some of his music by the singing of local girls on the beach.  
Llangrannog village eventually expanded down towards the beach, and by the 19th century it had a busy shipbuilding industry.  Twenty four ships were built near the beach.  Ships are traditionally divided up into sixty-four shares and it was not uncommon for people to own one or two shares in a portfolio of ships. Many local farmers and traders owned shares in these vessels.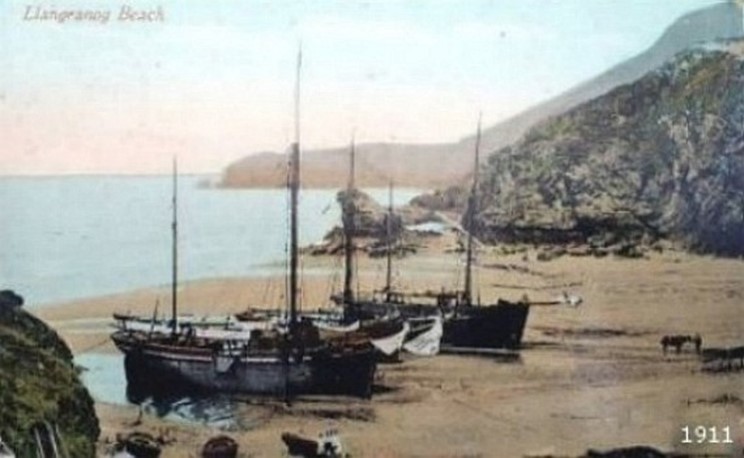 Until 1914 almost all of the male inhabitants of Llangrannog were seafarers. But perhaps the most renowned of this maritime community's qualified sea captains was Cranogwen, Sarah Jane Rees. This remarkable woman was also a navigation school tutor who was was also a crowned poet, campaigner and orator. Her grave can be seen at the top of the churchyard, but there is also a local campaign which is gathering momentum and  support from across Wales, for a commemorative statue for her in the village.
Urdd Gobaith Cymru at Llangrannog
For more than a century, Urdd Gobaith Cymru, - the 'Urdd' - has welcomed children and young people to Llangrannog to enjoy sport, learn and socialise through the medium of Welsh. 
Gwersyll yr Urdd, Llangrannog opened in 1932 as Urdd Gobaith Cymru's first permanent centre, hosting 150 young people in tents and cabins for four weeks over the summer.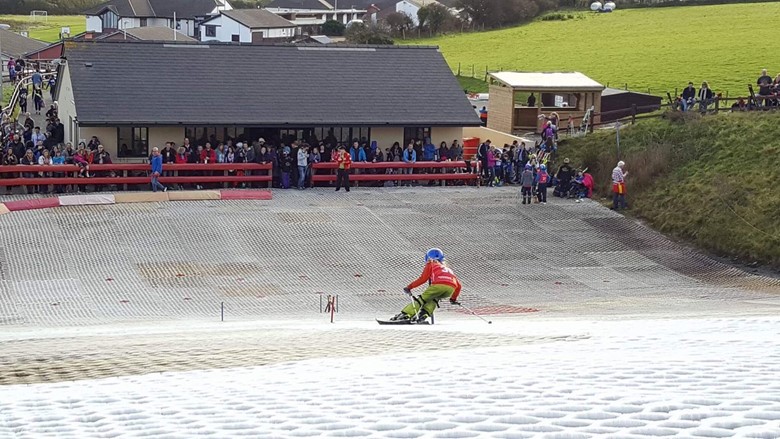 Today's facilities include a barn for horseriding lessons, a swimming pool, gokart track, ski slope and adventure zone with zipwire, climbing and abseiling wall.
The Centre at Llangrannog welcomes over 25,000 children and young people each year, and also offers holidays breaks for families and groups.