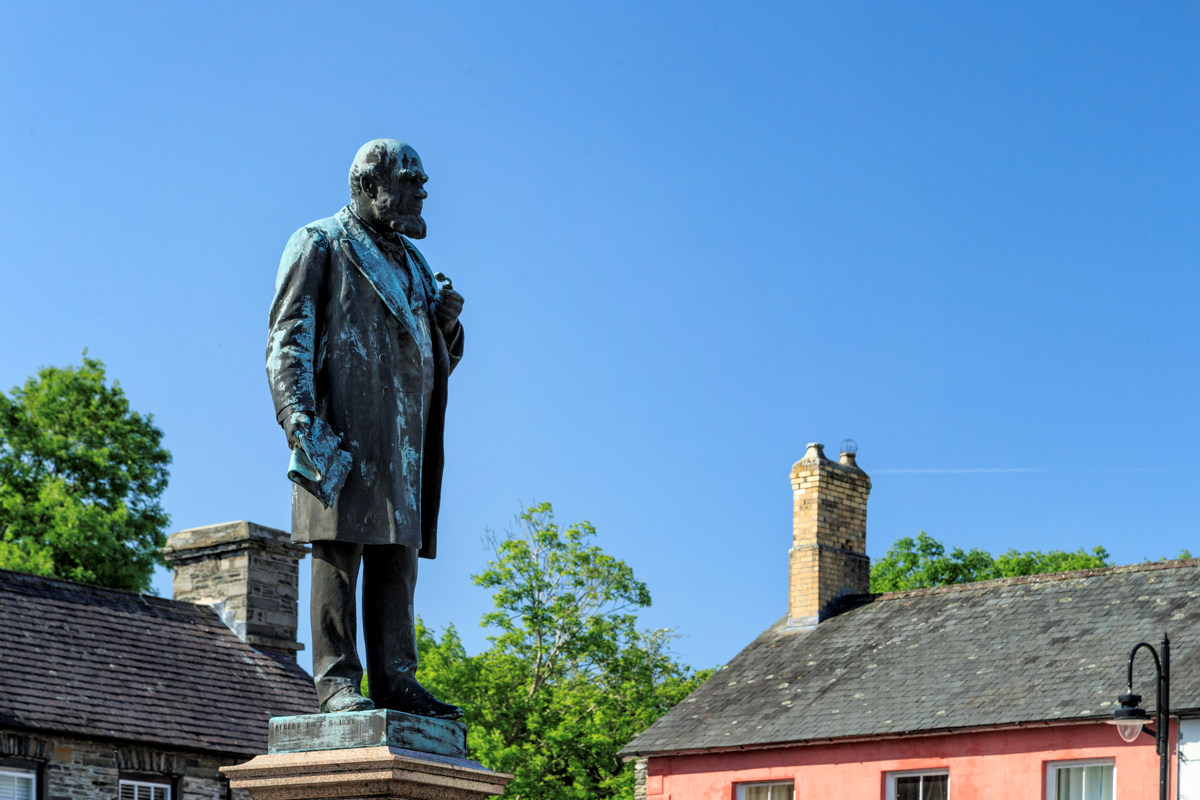 Apostle of Peace - Henry Richard
Henry Richard was a nonconformist minister who became well known on the international stage as 'The Apostle of Peace'. Born in Tregaron in 1812 and educated at Llangeitho and London, Richard was opposed to war for moral and religious reasons, declaring his hope that "the abatement of the war system lies in permanent conviction of the people, rather than the policies of cabinets or the discussions of parliaments."
Henry Richard became the Member of Parliament for Merthyr Tydfil, where many men from Ceredigion had migrated to find work in the coal mines. Henry was also a passionate speaker on Welsh matters, earning him the nickname of 'the member for Wales'. He was appointed Secretary of the Peace Society in 1848, a precursor to the League of Nations and United Nations Organisations. He was also an anti-slavery campaigner and a prominent pioneer in education, becoming the first Vice-President of Cardiff University College.
A statue of Sir Henry stands on the town square in Tregaron, facing away (perhaps appropriate for a teetotaler) from the Talbot Inn, but do call into the Talbot, where there is an interesting collection of Henry Richard memorabilia. From Tregaron you can follow the mountain road to Soar y Mynydd chapel, founded by Henry's father, Ebenezer Richard, for the farmers and shepherds of the area.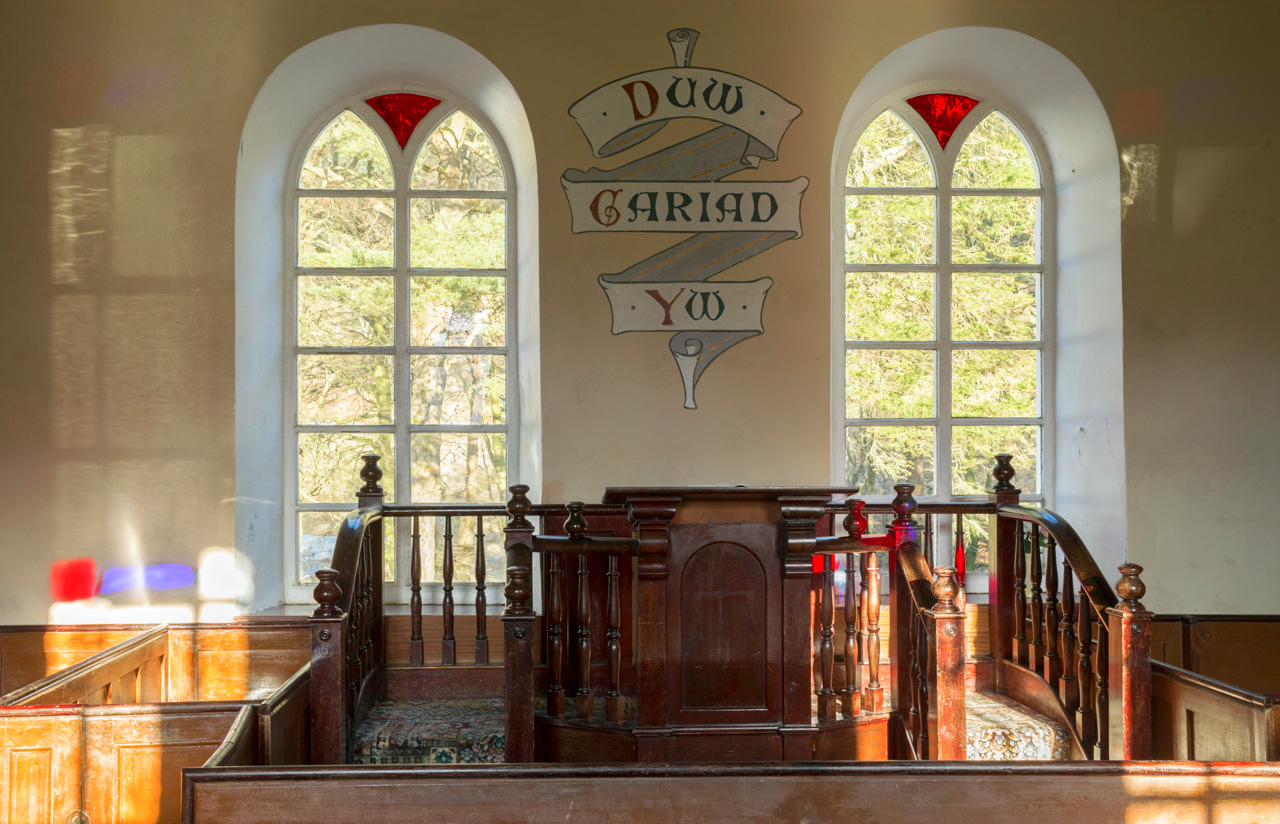 'Cranogwen', female sea captain, Sarah Rees 
Sarah Jane Rees (1839-1916) was a sea captain, poet and very successful Welsh woman who adopted the bardic name of 'Cranogwen'. She became the first woman to win the bardic crown at the National Eisteddfod, in 1865, beating many well known bards of the day. Cranogwen also became a popular public speaker, travelling widely including several tours in America. She also established the Women's Temperance Movement and edited and published a Welsh language journal for women.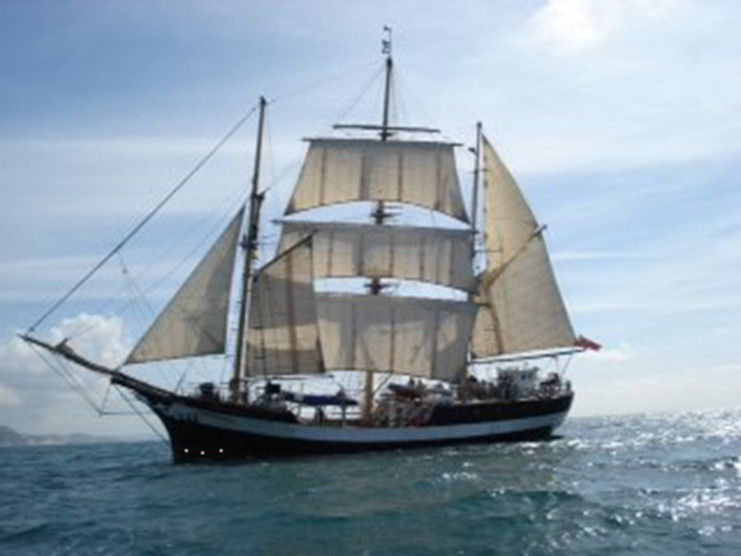 Cranogwen, daughter of a Llangrannog master mariner often accompanied her father on his cargo ships. Although unusual for a girl at the time, Sarah went on to study navigation at New Quay, then at Liverpool and London, eventually earning a full captain's certificate. This would have enabled her to sail as the captain of a ship to any part of the world, but instead Sarah chose to base herself in Llangrannog and became a teacher. She taught the skills of navigation to local young men, reading and writing to children, and music. 
Ceredigion people, American citizens
Tough conditions in 19th century Ceredigion forced families to take the drastic step of emigrating. Many Ceredigion emigrants sailed from Cardigan​ to the provinces of Quebec and New Brunswick in Canada, others departed from New Quay and Aberaeron for the New World travelling via Liverpool including six families that left the Cilcennin area in 1818. By 1850 as many as three thousand people had followed them to the United States, many settling in Gallia and Jackson counties in Ohio.
Most migrants remained and laid down roots away from Ceredigion, but a surprising number chose to return, including Edward Jones, who emigrated to Cincinatti in 1831. On his return to Ceredigion he published 'Y Teithiwr Americanaidd' (the American Traveler), one of the items in the National Library of Wales's vast collection of Americana.​​​​​ A later migrant from Tregaron, Evan Rowland Jones, became involved in politics soon after emigrating to Wisconsin in 1855. Strongly opposed to slavery and a supporter of Abraham Lincoln, Jones saw action at the Civil War battles of Williamsburg and Gettysburg. In 1880 he published a guide to the USA, 'The Emigrant's Friend'. 
Joseph E Davies, a relative of Evan Rowland Jones, became a successful international lawyer and as US Ambassador to the USSR, advised president Truman at Potsdam in 1945. The 1943 pro Soviet propaganda film 'Mission to Moscow' with Walter Huston is a dramatization of Davies' experience as US Ambassador. ​​​Despite having reaped the benefits of emigration, he never forgot his Welsh roots, calling his vast estate in Washington DC after his father's home town, Tregaron.  
A Welsh Swagman in Australia
Joseph Jenkins was a successful and innovative farmer from Tregaron. Active in local life, he was instrumental in overcoming the problem of getting a railway track across the marshy ground of Cors Caron by using bales of wool as a foundation for the track. In December 1868 at the age of 50, Joseph Jenkins impulsively abandoned his farm, family and community to travel to Australia. He spent the next thirty years as a casual labourer or 'swagman' around the state of Victoria where he actively campaigned for improved rights for labourers.
Throughout his life Joseph Jenkins had been a diligent diarist and enjoyed composing poetry. While in Australia he corresponded regularly with his brother, often in verse. His diaries have since become a valuable primary resource on the social, cultural and labour history of Victorian Throughout his life Joseph Jenkins had been a diligent diarist and enjoyed composing poetry. While in Australia he corresponded regularly with his brother, often in verse. Joseph Jenkins's Australian diaries, now at the State Library in Victoria, Australia - a rare and valuable primary resource on the social, cultural and labour history of Victorian Australia. 
Sir John Rhys - Celtic scholar
Sir John Rhys was born into a farming family in Ponterwyd. This background steeped him in folklore, poetry and local history from an early age.
He was a pioneer in his chosen academic field of Arthurian tales and Welsh mythology, travelling widely in Europe, Britain and Ireland, recording ancient inscriptions. Hew was made a Fellow of Jesus College, Oxford, and appointed the University's first professor of Celtic Studies.  Rhys was also a fellow of the British Academy, chairman of the Honourable Society of Cymmrodorion, and a member of the Privy Council.
JRR Tolkien studied language and literature at Oxford during the last years of Rhys's life, and it is probable that he attended classes given by Sir John on the Mabinogion. The Elvish language of Lord of the Rings sounds similar to Welsh, and Tolkien claimed that Lord of the Rings was a translation of the  'Red Book of Westmarch' – based on the real-life Red Book of Hergest, one of the oldest and most important Welsh manuscripts, which is held at Oxford's Bodleian Library.
At the National Library is another important Medieval manuscript,  known as Llyfr Gwyn (the white book of) Rhydderch.  It was probably produced for a wealthy Ceredigion patron.  Sir John Rhys's own papers are also held at the National Library of Wales in Aberystwyth.
A University College for Wales
Aberystwyth railway station opened, to grand fanfare in 1864, for passenger trains on Cambrian Railways line. Parliament had authorised the Aberystwyth & Welch Coast Railway, which was to link towns along the Cardigan Bay coast. Both companies eventually merged with the Great Western Railway Network. 
That same year,  entrepreneur Thomas Savin purchased a building on the seafront, known as Castle House which had been designed in the 1790s by the renowned Welsh Architect, John Nash for Sir Thomas Uvedale, a keen proponent of the Picturesque movement.  Savin, a railway entrepreneur, planned a grand hotel, designed by JP Seddon, but failed to realise his vision.  A group intent on establishing a University of Wales, with its first college at Aberystwyth, purchased the building and Seddon continued with the build.  With public and private subscription, the' University of the People' opened in 1872.  What is now known as the 'Old College', a Grade 1 listed building, is now being transformed into a cultural, learning and enterprise centre, which will include a 33-bed hotel.
Rural industry and coastal commerce
By the mid 19th century, Ceredigion was one of the most important textile manufacturing regions of Wales and the livestock farms were producing cattle and sheep which were still being driven on foot by drovers to the markets of England over the mountain passes. The new railways enabled milk, cheese and eggs to be the towns and cities too.
Clothing and other textiles were made from local wool, from socks to distinctively patterned blankets and quilts in cottages and mills throughout the area. Wool was even used as a foundation for the Manchester to Milford Railway (now the Ystwyth Trail between Aberystwyth and Tregaron) across the marshy ground of Cors Caron.
The mills of Talybont in the north served the needs of the lead miners of the Cambrian Mountains, whilst the mills of the Teifi valley in the south, with dozens of mills employing hundreds of men and women, supplied textiles to the coal mining valleys of south Wales and later, blankets and worsted uniform cloth for the soldiers during World War I.
Rock Mill in the Clettwr valley (a tributary of the Teifi) near Llandysul was built in 1890. Today it is the only working, water powered, commercial woollen mill remaining in Wales. On the confluence of another three tributaries of the Teifi, is Drefach Felindre, where, among a complex of former mills, is the Welsh National Wool Museum. 
With a good local supply of timber, shipbuilding and coastal trading was an important part of the Ceredigion economy. Ships were built all along the coast from Cardigan to Ynyslas, often on or near the beaches. Two hundred and forty ships are believed to have been built at New Quay, 280 at Aberystwyth, 25 at Aberarth and a similar number, some as large as 200 tons, at Llansantffraid.
Everything from anchors to ropes to sails were made locally, with New Quay having six sail lofts at one point, and as ships needed insuring, the village also boasted three insurance companies. In 1900, the 213 ships registered at Aberystwyth employed 900 men and boys.
Some ships traded along the coast, collecting and delivering lime and coal, whilst others crossed the oceans, carrying timber from the Baltic and North America, or guano from South America.
Ceredigion communities such as Borth, Llanon Llansantffaid and Llangrannog have raised generations of master mariners. New Quay produced the largest number, followed by Cardigan, Aberystwyth and Aberaeron.
Follow Aberaeron town trail and find the plaque listing all the ships built in the town. At Aberaeron, New Quay and Borth it's easy to spot house names which make reference to the sea, names of distant lands and ports like Gambia and Bari, or names of members of the mariner's family.
Many of Ceredigion's churchyards reveal seafaring heritage: explore the gravestones at Llanfihangel Genau'r Glyn, Llanrhystud, Llanon Llansanffraid, Llanddewi Aberarth, Llanerchaeron, Llanarth, Llanina, Aberporth and Cardigan, and look out for Cranogwen's imposing gravestone at Llangrannog.